Home > Movies > Interviews

The Rediff Interview / Willard Carroll, director

'Salman is very similar to Sean Connery'

August 01, 2007


| | |
| --- | --- |
| Willard Carroll | |
| | |
| | |
| | |
| | |
| | |
| | |
Getting big stars to do his bidding isn't exactly a new experience for Willard Carroll. The Maryland-born filmmaker graduated from the USC School of Cinema-Television in 1978 and, a mere 20 years later, produced Playing By Heart [Images], starring Sean Connery [Images] and Angelina Jolie [Images]. It was nominated for a Golden Bear.
As his Indian romance Marigold -- the film was written by Carroll -- prepares to release worldwide, he tells Raja Sen how a chance visit to a theatre in Chennai four years ago led him to Salman Khan, and the world of the Bollywood musicals.
What is the first thing you want to tell us about Marigold?
The film is about an American actress who comes to India, ends up having a tiny role in a Bollywood musical and falls in love with the choreographer. It's a romantic comedy, with seven songs.
Just how do songs find their way into your English film?
It's set in the world of Bollywood, which gives it a reason to have those songs. I think American audiences might have a problem with that, so I thought this would be a good way in, to make them more organically part of the film. In the English version, only two songs are in English.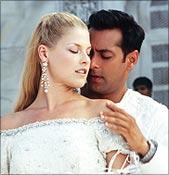 At screenings in the United States and United Kingdom, nobody mentioned the fact that the songs are in Hindi. When I first told my financiers I wanted to make an English film with Hindi songs, they thought I was crazy. But once you accept the songs are a part of the reality of this film, it seems right. In a weird way, I think music is more universal than even films. People respond to the sounds, the beat of a song.
The Hollywood musical classically interweaves songs as a part of the narrative, the characters singing out dialogues and expositions. Here, our songs are more abstract expressions. What route does Marigold take?
I wanted all the songs to comment on the relationship between Salman's and (heroine) Ali Larter's [Images] characters.
Would this be a film in the Bride & Prejudice vein?
I haven't seen Bride & Prejudice but I'm told it's a Bollywood movie in English. That is not what I'm trying to do. Bollywood has made inroads in some aspects in America, in the bigger cities. But most Americans have never seen a Bollywood film. The fact that it is set in Bollywood is almost the second level of the story; the first is that of somebody travelling somewhere to find themselves.
So it is Ali's story.
It is Ali's story, about what happens when she comes to India for the first time. Actually, it's very close to what she went through -- an actress who can't dance coming to India for the first time.
In the film, Salman teaches her to dance, and he had to help her through most of the choreography. We adopted the Bollywood style of shooting, which was different from how we'd shoot it there. Ali was open to all this, but also terrified, I think. But she went away pretty altered as an actress. It was a great experience for her.
How was it for you? What is shooting in India like?
It was great. I was lucky because I have been here many times before. I had been on a lot of sets and met a lot of industry people so it didn't come as a surprise to me. I didn't come with a Hollywood crew; I hired everyone here. So I had the right group of people, and the shoot went smoothly. Also, we shot very fast -- 41 days -- and it sometimes went like a blur. It wasn't easy, but it was fun.
When did you start watching Hindi films?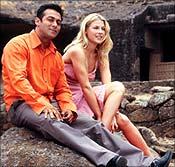 I saw a film in Chennai about four years ago in a theatre, and loved it. I hadn't watched any other Bollywood film through to the end till then, to be honest. I decided to give myself a Bollywood education, so I bought about 150 movies, which I then watched in about six months. They were mostly films made in the last five years. One of my favourites was Hum Dil De Chuke Sanam, so I hired the cameraman and production designer who did it. I wanted to keep it authentic. I am an American, an outsider, so the movie has an outsider's perspective, but I wanted the tapestry of the movie to be legitimate.
Is it a tongue-in-cheek look at Bollywood?
No. It's not a parody of Bollywood, and it doesn't take cheap shots. That's not the kind of movie I like to watch. There's obviously humour to be found in the process and I hoped I mined some of it. But I wanted the humour to come out of the characters, instead of making it campy.
Why Salman? Was that also because of your appreciation for Hum Dil De Chuke Sanam?
Actually, the first movie I saw was Chori Chori Chupke Chupke [Images], and I thought he was terrific in it. When I went home, I saw his older films -- I can honestly say I have seen every one of Salman Khan's [Images] films. I thought he would appeal to an American audience. I met him on my second trip here, and his persona in real life is even more entertaining than his persona on screen; he's such a funny guy, so smart, and with such an idiosyncratic way of speaking. So I wrote the movie for him, for his style of talking, his delivery.
What was the trickiest thing about shooting in India?
The trickiest thing was shooting with Salman, just because he's Salman. You'd suddenly have 50 people, and then thousands, all queuing up to see him. That was tough because we were shooting sync-sound -- it is the first time Salman is doing sync-sound -- and that made it a little difficult for us.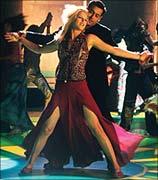 Sometimes, when the extras came in for a scene, the locals would come with them. And the problem is we couldn't tell the extras from the villagers (laughs)! The most difficult was the shot at Mumbai's Gateway of India. That was crazy, but in a fun way.
What is working with him like?
It was great. He's a very spontaneous actor and, because I'd known him for about two years before we shot, there was a good comfort level there. He had been involved in the development of the script, so there weren't any surprises for him. I wanted a more low-key Salman, and this film is closer to some of his earlier performances, his earlier characters -- which is also why I named his character Prem.
He was also great with Ali. They come from totally different disciplines: Ali loves to rehearse, to analyse the character and scene. Salman doesn't want to rehearse; he knows what he's going to do before he gets there.
I did a movie with Sean Connery, and he's actually very similar to Sean in that way -- they don't like a lot of takes, and don't like to really talk about stuff except during the script process.