Home > Movies > Bollywood News

A brand new Naya Daur

Girish Rao | April 30, 2007 13:25 IST


| | |
| --- | --- |
| Dilip Kumar in Naya Daur, 1957 | |
| | |
| | |
| | |
| | |
| | |
| | |
After Mughal-E-Azam, it's the turn of Naya Daur. Come the first week of June and viewers would again be soaked in the time less man against the machine story, only this time, everything would be in colour.
Classics revisited: Naya Daur

Director Ravi Chopra is all gung-ho about his next release. This 50s blockbuster is his new labour of love. Coloured at the cost of approximately 4 crores the film will also feature digitally remastered 5.1 surround sound. The whole process has been done by Florida based agency West Wings, who, just to colour the film, also set up a temporary unit in Goa.

Ravi Chopra was dissatisfied with the Mughal-E-Azam colourisation, and claims to have left no stone unturned to give his film a more realistic colour appeal.
Special: Mughal-E-Azam

So did Ravi show the film to his father B R Chopra, the man behind the classic? 'Yes,' Ravi replies immediately, also adding that Chopra Sr was initially a bit apprehensive, but it took just ten minutes for him to get hooked on to the film. B R Saab sat patiently for a good 3 hours, enjoying every bit of the masterpiece.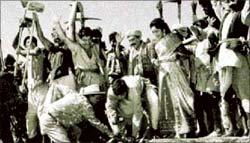 This coloured version of Naya Daur coincides with the golden jubilee year of the release of the film. On completing fifty years, Ravi Chopra also adds that 1957 was 'one helluva year' which would be difficult for any year to match -- besides Naya Daur, it gave 3 other cinematic gems, namely Pyaasa, Do Ankhen Barah Haath and Mughal-E-Azam.

Currently, Ravi rues the fact that despite instructions from his father to show the coloured version to near and dear ones, he has yet to show the film to anyone simply because most of his time has been consumed with last-minute detailing and finishing touches. He wants to show the film to leading man Dilip Kumar this week, and is eager to get a reaction.
When Dilipsaab had heard the script of this man versus machine blockbuster for the first time, he turned it down and it was only at the timely insistence of Ashok Kumar that he agreed. Also, the script had gone initially to Mehboob Khan and he too was reluctant about its viability at the box office, but later on he realised his mistake and persuaded his great friend B R Chopra to make him the chief guest when the film completed its silver jubilee.