Advertisement
April 27, 2007 16:11 IST


Sanjaya is not the only Malakar making news.

His sister, Shyamali, too, has come under the spotlight. But not for her singing. Pictures of her wearing nothing but a smile behind a guitar has made the part-time waitress from near Seattle a hot item in the Internet.

Even the television cameras could not resist Shyamali. During the course of the hugely popular singing contest American Idol, the camera always managed to zoom in on the bubbly 20-year-old as she cheered her sibling on, along with her mother and on some occasions, her father too.

Though Shyamali and Sanjaya entered the contest together, she was ousted early on while Sanjaya, 17, stayed on to compete in the top ten before being voted out a week ago.

She became his best cheerleader translating into a voting bank for her brother.

"I thought I had a duty to root for my brother," she says. "People had once talked about sibling rivalry in the show. But believe me, even if I had been there with him in the top 10, I would not have wished him to go away."

But now, she has a fan following all of her own, with the picture of her becoming the most downloaded picture in the Internet.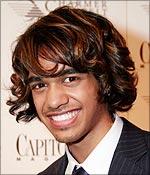 And her reaction?
"I did not realise it would be so sensational," she says. "I am not a trivial person, and it was never my intention to grab limelight by doing that picture."
  
Shyamali, who's looking for a career in singing and acting, says she wants to use music and films to spread a positive image.
"Music can really do good in the world," she says, adding that people do not realise she has ideals and a serious side.
Over a year ago, Shyamali, whose father Vasudeva Malakar migrated from Kolkota to be a pujari and bhajan singer for the Hare Krishnas in America, spent three months in Orissa learning Kathak. She also learned Indian classical music.
"My singing has become better because of the training," she says, even though her vocal genre is very western.
Recalling her first real sojourn in India, she says, "I am still amazed at the warmth and hospitality I found in India. You make friends within a few minutes, and you are invited into people's homes often. People open up to you; they take you into their homes and their hearts as if you are a long separated family member. That was amazing. It was unlike anything I had ever seen in my life."
Shyamali has also expressed an interest in Bollywood and would like a career in it. "I have seen many Bollywood films and have found some message and values in some of the good ones," she says, adding. "I have respect for those films. But my Hindi is not good, though I am working at it."
Meanwhile, her mother, Jillian Recchi, is none to happy about the picture and chalked it up to teenage rebellion. She also insists that her daughter was never without clothes when the picture was taken.
"Even though it is not nude, it's not flattering," she says. "My first reaction when I saw it, as a mother, was to take it off but being the independent teenager she is, she did not. And now, it's all over the place."
But her daughter may have inherited the rebellious streak from her mother.
Recchi, who also goes by her married name Jillian Blith, was arrested for growing marijuana in her home garden in Federal Way, Washington, two years ago and had spent a month in jail, the Orlando Sentinel reported.
She had grown marijuana for medical purpose, the newspaper quoted her family and friends as saying.
With inputs from Mabel E Pais | Photographs: Getty Images