April 18, 2007 18:01 IST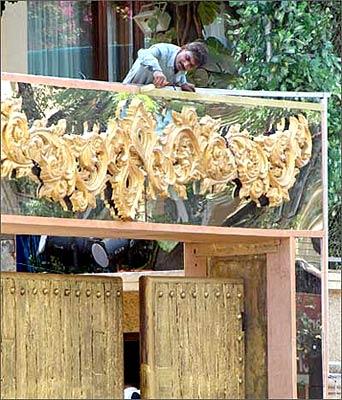 They are the best source if you need to get any information on what is happening inside Prateeksha, Amitabh Bachchan's bungalow.
While the journalists and photographers are pariah for Aishwarya Rai and Abhishek Bachchan's wedding, labourers are always welcome.
These workers have photo identity cards, which make entry and exit in the Bachchan bungalow easy, while poor journos have to sweat it out outside.
Don't miss: The Ash-Abhishek Wedding
We caught up with the labourers who were armed with pillows, bed sheets, wooden pillars and other wedding paraphernalia, as they alighted from a tempo outside the bungalow.
"Babu, the decoration is so grand that even Taj Mahal will look like a tiny monument," Nurrudin Shaikh, a worker, says. "Those who are not in are really missing something in their life," he adds.
"A jhoomar (chandilier) has arrived from London. Everything is newly ordered," quips his friend Shafi Mohammad.
Text: Syed Firdaus Ashraf | Photograph: Reuben NV