April 18, 2007 20:55 IST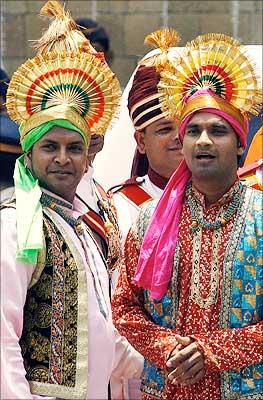 Now, here's what you may not know about Aishwarya Rai and Abhishek Bachchan's sangeet tonight:
Ash will swing her hips to her chartbuster Kajra re, while Amitabh and Jaya Bachchan will dance to the title track of Salaam-e-Ishq. Abhishek and his friends will dance to Beedi jalai le.
The guests, meanwhile, have started arriving at Prateeksha -- the Bachchan residence in Mumbai's suburban Juhu -- where the sangeet ceremony will take place.
Among the first to arrive were Samajwadi Party leader Amar Singh, Ajay Devgan and Kajol, Tina Ambani and Sahara chief Subroto Roy's younger son Seemanto.
Amitabh's younger brother Ajitabh arrived soon after with his family.
Among the other guests were producer Romesh Sharma (who launched his son Karan in Dil Jo Bhi Kahey, costarring Amitabh), theatre owner Manoj Desai (who had produced the Big B's Khuda Gawah), Shweta Bachchan's mother-in-law and Raj Kapoor's daughter Ritu Nanda, Sanjay Dutt with Manyata, Suniel Shetty and wife Mana, Rishi Kapoor and wife Neetu Singh, Kirron Kher and son Sikander, Karan Johar, Preity Zinta, Yash and wife Pamela Chopra, Prem Chopra with his wife, and Shankar-Ehsaan-Loy.
Sachin Tendulkar -- Ash's neighbour -- did not make it for the wedding but his wife Anjali and children did.
The Bachchans may have bad memories of Abhishek's engagement to Karisma Kapoor a few years ago, but ties are obviously not broken. Karisma's father Randhir Kapoor was invited, and he arrived with his brother Rajeev.
Choreographer Sandeep Soparrkar arrived with a group of skimpily clad girls, who are expectedly to perform at the sangeet tonight.
While Ash arrived at Prateeksha just before 6 pm, Abhishek -- who spent the evening in Jalsa -- reached his second bungalow only past 9 pm, accompanied by his sister, Shweta. They travelled in a white Mercedes, presumably the same one used by Ash earlier today.
A few minutes before 10 pm, Amitabh Bachchan made a grand entry into Prateeksha. As he emerged from his car, loud Punjabi music boomed from speakers, as bhangra dancers (in the picture) worked up a frenzy inside the gates. Fans spread over the road outside Prateeksha, as they hoped for a glimpse. Soon after Amitabh's arrival, two buses of baraatis followed. In case this has you confused, here's the explantion: The sangeet ceremony is usually held at the bride's home. But since in this case, the ceremony is being held at Bachchan's Prateeksha residence, the bridegroom-to-be and his family have used Jalsa as their base.
Photograph: Getty Images