Advertisement
April 18, 2007


Withering heat, stifling humidity and a crowd of disgruntled media persons created an anti-climatic atmosphere at Aishwarya Rai's Bandra apartment today. Plenty of hired hands, personal security and Bandra police entrenched themselves around the compound, refusing to shed any details and threatening bodily harm on those who dared come close.

The building resembled a heavily fortified fortress; a narrow tunnel constructed from the doorway to a back lane provided the only entrance point to Ash's friends and relatives.

Don't Miss: The Ash-Abhishek wedding

Being an obnoxious American, I attempted to flaunt my firanginess in an effort to procure precious passage into the ceremony shrouded in mystery. I approached the formidable gateway, assumed a nonchalant air of disinterest, and ambled inside. *Wham* Two large antique guns, ancient relics from the Bolshevik Revolution, crossed my chest and barred entrance. As their owners appeared neither amused by my antics nor particularly proficient in handling dated weapons, I adopted a different attitude.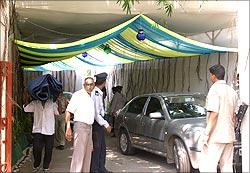 I stepped backwards and away from imminent death, joined the rest of the downtrodden press and considered some alternate options. In no time, however, the news-starved media began treating me as a celebrity, clicking pictures and asking me inane questions about the impending marriage. I became the requisite 'foreign correspondent', covering the event for the entire world with live-feeds obviously being simultaneously sent to London, New York and Toronto.
After having quite enough of my instant celebrity status, I approached adjacent buildings and began interviewing the occupants for their opinions on the recent media attention and upcoming union between two of India's biggest celebrities. To my dismay, however, the only person who would speak with me was a 12 year old boy who found girls 'gross' and only wanted to discuss football and the English Premier League. The other neighbours had retired for their afternoon siestas; no upstart foreigner was coming in the way of their sleep.
So, I sauntered back to the media circus huddled around the crevice in the mammoth gates; they pushed and fought for each millimetre of space. Each time a vehicle approached, the frenzied press descending on the hapless victims and shot hundreds of shots. Most of these cars contained Ash's neighbours and other uninteresting subjects. I vaguely wandered around the peripheral of this circle of sharks; my thoughts repeatedly drifted to Dahi batata puri and glasses of nimbu pani.
Finally, I threw caution to the wind in hopes of gaining something palpable. I employed my biting wit and fine sense of humour in a last attempt to earn my entry. I chatted nonsensically in Hindi; I demonstrated my feeble knowledge of the Indian celebrity scene; I failed yet again.
By this time, however, I had determined myself to enjoy the rather boring proceedings, so I continued with my antics. I danced my way towards the mob of armed bodyguards and engaged them in a song and dance. My stunning rendition of Crazy kiya re may not have won me any special information, but I certainly won their hearts. For the first time all afternoon, they managed to crack a smile, and some of them even sang doubles and helped me with the high notes.
Photographs: Uday Kuckian