April 17, 2007 13:22 IST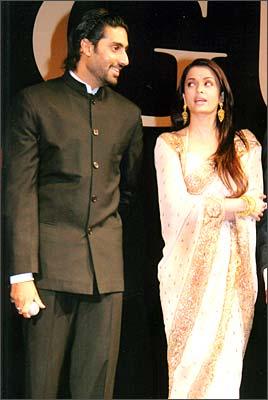 With April 20 fast approaching, the preparations for the Ash-Abhi wedding are on in full swing, and under the watchful eye of Bachchan Sr.
One can see that for the wedding paraphernalia, the Bachchans are more inclined towards smaller towns, and not Mumbai. Whether it is the mehndi, flowers or laddoos, the family prefers to place orders in the smaller towns.
To begin with, Ash will get her mehndi from Sojat, a small town in Rajasthan. Interestingly, Sojat had also provided mehndi to Arun Nayar and Liz Hurley when they got married in the desert state.
If sources are to be believed, the Bachchans have ordered for 15 kilos of mehndi.
About 1,000 stalks of Heliconia flowers will arrive from Kochi, in Kerala. This ornamental flower is usually used to decorate halls and gates.
Pandit Channulal from Varanasi has been roped in to play the thumri during the wedding ceremony to entertain guests.
The sweets, it is rumoured, will arrive from Kanpur.
Jaya Bachchan prefers Kolkata to Mumbai for the jewellary. She has purchased gold from the same shop which had provided jewellary to Ash, when she was shooting for Rituparna Ghosh's Chokher Bali.
Looks like Mumbai has lost out on many counts on Bollywood's big shaadi.
Text: Vaibhav Desai