April 17, 2007 13:09 IST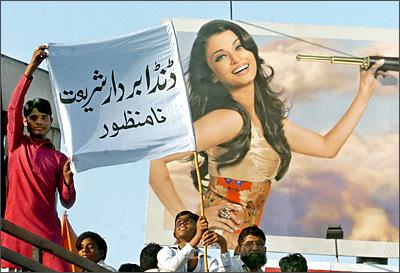 No, they don't hate Ash at all.
Pictured in front of an Aishwarya Rai billboard in Karachi are Pakistani activists of the Muttahida Qaumi Movement (MQM) taking part in a protest rally.
Video: 'A-A wedding is hot topic'
But this isn't a rally of single men incensed by the upcoming wedding. The MQM's grouse is with the self-declared Shariah (Islamic Law) of the Lal Masjid in Islamabad.
Is this Ash-Abhishek's new home?
Chief cleric Abdul Aziz and its attached male and female religious schools have challenged the government of President Pervez Musharraf and launched Taliban-style morality patrols against music and video shops. 
Dhoom 2 fans, support the MQM.
Photograph: Rizwan Tabassum/AFP/Getty Images