April 17, 2007 11:08 IST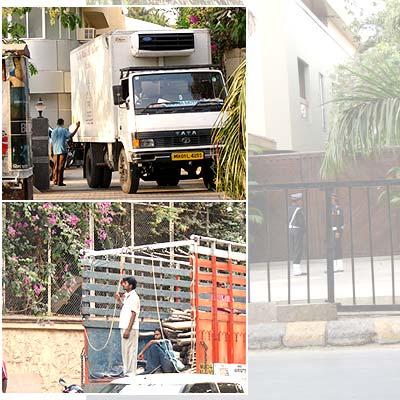 Behind all the security, scrutiny and spotlight, stars are pretty much like us.
A walk outside Amitabh Bachchan's famed Jalsa Bungalow in Mumbai's Juhu suburb confirms this, the massively guarded home swamped by all sorts of preparations for son Abhishek's nuptials with Aishwarya Rai this Friday.
Video: 'A-A wedding is hot topic'
Going clockwise from top left, we see a Taj Catering van in one frame; the guards -- shot from a distance in order to avoid ruffling megastar feathers -- outside the main gate in another; and truckloads of scaffolding arriving, presumably to shield the tall, flower-lined walls towering over the house.
Video: Best wishes to Ash-Abhi
Bachchan's other Juhu residence, Pratiksha, was also seen buzzing with activity on Tuesday morning. Curious onlookers were found craning their necks to catch a glimpse of the activities inside the then-ajar door of the bungalow.
But alas, all one could see were some workers unloading a matador full of wooden planks, scaffolding and fibre glass. A half-finished toron (decorative gate) stood tall, as if pre-announcing the mega event.
A wedding in a massive Indian family: is there ever a more legitimate time for household chaos?
Photographs: Uday Kuckian