Advertisement
April 13, 2007 14:39 IST
It's no good being ambitious when priorities become compromises and conscience takes a backseat.

Vikram Bhatt's Life Mein Kabhie Kabhiee explores how far a bunch of youngsters will go to achieve their definition of happiness.

The premise has our attention, alright.

Without much ado, it is swiftly established how five freshly graduated friends get booked for drunken driving. Still in the mood to make merry, they philosophise about what happiness means to them, inside the lockup.

Rajeev (Dino Morea) wants to be a top business tycoon. Mona (Nauhid Cyrusi) aspires to be the numero uno actress of Bollywood. Jai (Sameer Dattani) aims to be a powerful politician. Ishita (Anjori Alagh) is all for apna sapna money money. Whereas Manish (Aftab Shivdasani) decides to be the accountant of their dreams, he bets them for 200 bucks, saying whoever is happiest at the end of five years will be entitled to this money.

In the next few years, Rajeev's underhanded tactics to acquire a deal at any cost disturb his upright elder brother (Mohinish Bahl) and sister-in-law (Aarti Bahl) a great deal.

At first, uncomfortable with the workings of the glamour industry, Mona eventually cheats on her supportive, gullible boyfriend Mohit (Anuj Sawhnney is in good form) with a top hero (the ever hamming Rajat Bedi) to get main leads in bigger banners.

A manipulative Ishita shrewdly plants herself into a wealthy man's (Raj Zutshi sporting an ostentatious wardrobe and funny hairstyle) existence and marries him.

Jai becomes invincible for his political party by getting the job done, through hook or crook.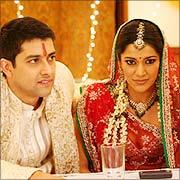 Manish, meanwhile, woos Richa (an absolutely delightful Koel Puri), a banker to the altar; they have a baby even as he loses his job as a magazine reporter.  

As the story shifts focus from one protagonist to another, so does the attention span. What strikes as engaging, at first, soon dilutes in impact and interest.

The need for so many characters signifying the same seems excessive, unconvincing and pointless. After a while, Life Mein Kabhie Kabhiee begins to operate like an episodic soap opera with dramatic background score, typically accusatory dialogues (penned by Girish Dhamija) and a whole lot of melodrama.

Except Manish, everyone is reeking of guilt and compromise. Ideally, there was no need for multiple storytellings at all. The narrative could have easily featured two friends following an individual path towards happiness, instead of crowding it with five lives, in simultaneous succession, and achieved just the same.

True, it's not the regular boy-meets-girl romance but it does not demonstrate the Dil Chahta Hai brand of dosti either. Here, you don't feel any bonding between the buddies. Except for marriages or parties, the five are hardly there for each other. So much happens in their respective lives yet nobody tells the other, 'Dude, you are destroying your life! Get a grip!'

The acting ranges from impressive to insipid.

Aftab Shivdasani is the best of the lot. He's spontaneous, funny and uninhibited. Dino Morea is charisma and drive personified, which syncs well with his cocksure Rajeev. Nauhid Cyrusi, too, quite effectively brings out the dual personality of the greyish Mona.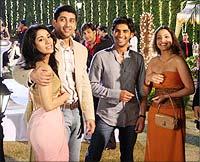 Character actor Maya Alagh's daughter Anjori makes her big screen debut with this film. The young lady could have done better with some more dynamism. Her body language is a bit too languid to convey the go-getter spirit of her Ishita. Sameer Dattani is quite a looker, but his constant, loopy gaze is not what intense acting is all about.

Technically too, Life Mein Kabhie Kabhiee is nothing breakthrough. Shot in a clear-cut manner by Pravin Bhatt, it's laced with Lalit Pandit (of Jatin-Lalit fame) unexceptional tunes.

Vikram Bhatt starts off with promise but, like his characters, he aims for too much too fast, dwindling the plot's pace and persuasion.
 
Life Mein Kabhie Kabhiee carries this message for the obsessively ambitious youth: happiness lies in the journey, not in reaching the destination.

Well, maybe!

Too bad, don't you think, if you have to sit through two and half exhausting hours to know what any quote book could have told ya.

Such is life, kabhie kabhiee. Tsk tsk.

Rediff Rating: