Home > Movies > Reviews

Provoked tells an important story

Sukanya Verma | April 06, 2007 16:11 IST


| | |
| --- | --- |
| A still from Provoked | |
| | |
| | |
| | |
| | |
| | |
| | |
When is enough really enough? 

In love, never. In abuse, immediately.

Domestic violence evokes a sense of unrestrained anger within. One's instant reaction is, 'How dare he?' or 'Why doesn't she leave him?'

It is too subjective to understand what makes a woman stay in a bad marriage, or with a bad husband. Issues like incompatibility, for some even infidelity, are negotiable. But how does one adjust to getting beaten up by a man who has publicly promised to love and respect you in an elaborate wedding ceremony?

Even so, scores of women tolerate harassment at the hands of beastly husbands in order to protect the institution's so-called honour. Some are just uncomfortable exposing the truth, while others are too scared to even try. There are women who actually die getting beaten up.

Provoked: A True Story compels you to think about this ugly issue prevalent in both modern and traditional societies.

Adapted from the autobiography Circle of Light (by Rahila Gupta and Kiranjit Ahluwalia), it is primarily the story of Kiranjit's trauma. Though the film doesn't give a detailed account of the psyche or conditioning of its victim and offender, it gives you some insight of a woman's incredible tale of abuse and acquittal.
Interview: Kiranjit, the woman behind Provoked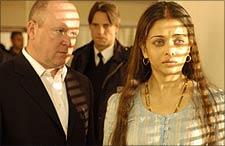 The opening shot (with solid backing from A R Rahman's soulful background score and Madhu Ambat's expressive photography) is exceptionally dramatic. Held by an unknown figure, a candle burns and spreads its dim light across the darkness of the living room. As it moves, the flames' reflection falls on the wall displacing framed memories from happier times. Oblivious to what it's about to do, the candle ascends in the direction of its victim. It surreptitiously reaches its inebriated victim and is let loose to make its fatal move.

The unknown figure is now revealed. It's a nervously shaking Kiranjit (played by Aishwarya Rai). The man going up in flames is her husband, Deepak (Naveen Andrews, playing the bad guy so effectively you want to strangle him).

A series of recurring flashbacks enlighten us about what really happened.

Originally from Punjab, Kiranjit comes to England after marrying Deepak. Docile and submissive, Kiranjit meekly puts up with the increasing atrocities of her alcoholic other half. The vile man beats, cheats, mistreats and abuses his wife physically, sexually and verbally. 

In an interview, the real Ahluwalia stated her husband was often nice but suffered from a 'split personality'. In the film, this trait is never communicated. Deepak comes across as a you-know-what of the first order from start to finish.
 
In the film, the year is 1989. And Kiranjit is put behind bars for suspected murder. The trial fails to establish a prolonged background of domestic violence and the jury declares her guilty. Sentenced to life imprisonment, Kiranjit gears up for life in the cell, where she finds a protective sympathetic in her feisty and affluent inmate, Veronica Scott (a delightful, effortlessly endearing Miranda Richardson). Booked for stabbing her husband, Veronica is shown to have remarkable influence in and outside prison.

Meanwhile, non-profit organisation Southall Black Sisters, headed by Radha (Nandita Das in a spiffy, vibrant turn) takes up Kiranjit's cause, vowing to bring her justice.

Together these women prove to be a driving force in her life. While she brushes up her English speaking skills, Radha and her team create an awareness of Kiranjit's case by posting banners and flyers asking for support. Veronica uses her contacts to help Kiranjit file an appeal. In 1992, the judiciary system in what came to be known as the breakthrough 'Regina vs Ahluvalia' trial acquits Kiranjit.

Provoked is an important story which definitely needs to be told. What is disheartening is the way it is. Sure, the treatment is realistic, production values are good, and the acting is mostly commendable -- but the screenplay (Paul Austin, Rahila Gupta) is shockingly superficial.

The mostly English-part Punjabi drama has such a hard-hitting theme, but director Jag Mundhra is so preoccupied in chronicling the events, he tackles the emotional aspect rather hurriedly. Like with the case of extracting performances.
Every time the actress is completely into her anguished character's skin, Mundhra; instead, of letting the camera linger for just a split second longer, jumps off to the next shot, breaking your connection with practiced insensitivity.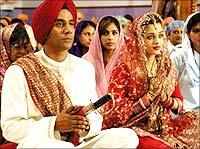 Aishwarya Rai, on her part, is sincerity personified. No make-up, pretty clothes or even a smile adorn her naturally gorgeous disposition. But those eyes play their part. With changing circumstances her big blue-green brimming eyes look shocked, grieved, frightened, confused and relieved. Her effort to speak in fluent Punjabi is truly impressive. Then again, there are times her body language is not in sync with the suffering of her character, something Mani Ratnam successfully got out of the actress in Guru. It is a sensitive portrayal, even if not an assertive one.

In terms of violence, the sequences are not too many or too graphic. Though there is an extended scene featuring a naked Naveen Andrews and his smouldered butt, the beating scenes are fortunately brief, nevertheless effective.

With a running time of 1 hour 45 minutes, Provoked is, as one psychologist in the film puts it, 'self-justificatory.' Even though it doesn't glorify Kiranjit's actions, it doesn't stop from justifying it either. If only the film would stress more on what Ahluwalia has been saying in almost every interview -- 'Never do what I did in life. But at the same time never suffer in a bad marriage. If you are unhappy in a marriage, get out of it.' That's what really makes her story so heartfelt and meaningful.

In the end, you come out of the theatre feeling more about the issue rather than the person.

Rediff Rating:

Want to see this movie? Check out Rediff Movie Tickets!