Home > Movies > Interviews

The Rediff Interview

'It felt good being nominated for an Emmy'

Rajul Hegde | April 04, 2007


| | |
| --- | --- |
| Pawan Shankar | |
| | |
| | |
| | |
| | |
| | |
| | |
If he wasn't a television actor, Pawan Shankar would have been a top executive in India's corporate world. He did his MBA and had made early inroads up the corporate ladder, when the acting bug bit him. He quit his cushy job and came to Mumbai to chase his acting dreams.
He got his first break in the TV serial Siddhant. He made waves in his role as a lawyer out to do something good for society.  Pawan also starred in six episodes of Smiriti Irani's Star Plus serial Thodi Si Zameen Thoda Sa Aasmaan. But his character of an angry young man made a huge impact, and now, he stars in Ekta Kapoor's Kasamh Se as the new man in Bani's (Prachi Desai) life.
Just before the interview started, he was called for a shot. As I waited in his make-up room, I had his two-year-old son Devassya for company, who was happily looking at his own pictures on a laptop and munching chips.
Pawan returned after 10 minutes and settled down for the interview. Excerpts:
You have a degree in MBA? How did you become an actor?
I come from a non-filmi background. Circumstances made me get into this field. A friend of mine quit his job, went to Mumbai and acted in two-three films, which did not do well. He told me to get into acting.
I completed my studies and took up a job. I worked for Triveni Engineering and Essar cellphones, which is now Hutch. During that time, I did some documentaries for the government (cultural ministry). I used to come to Mumbai for the shooting and editing. After four years, I quit my job and came to Mumbai. I did a course in Kishore Namit Acting School and with choreographer Saroj Khan. I also did stint of modelling. Initially, when I auditioned for Siddhanth, they were not happy with my voice as they felt it was not mature enough. I did yoga and meditation, which helped me work on my voice and concentrate during shoots.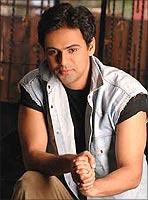 Do you think you made the right decision?
Yes. I worked in a corporate office, which is not a 9 to 5 job. There is lot of work pressure. Even acting has work pressure but it is like coming to a picnic. We have a lot of fun though we shoot 24/7. I would have been earning the same amount of money I am getting now if I had not quit my job. But here, there is no one to boss over you. And there is job satisfaction.
How did Siddhanth come your way? How was your experience?
During the first audition for Siddhanth, they were not happy. They called me for a second audition, and gave me six pages of the script. I told them to give me 30 minutes before the audition. When I gave the audition, it was flawless. The MD, BAG Films selected me. I spent the day auditioning with the director. He had doubts about my ability to pull off a strong, mature role since I was a newcomer. He was not convinced but agreed because the creative director was very keen on casting me.
Siddhanth was the best serial for any debutant actor. It was a learning experience. I got lot of appreciation for my character.
How does it feel to be so popular in such a short span?
It feels good. I got a lot of recognition and appreciation from the viewers. When I was doing Siddhanth, there were a lot of hoardings everywhere. My friends called up and wish me because I had already become a known face. Ekta Kapoor offered me a role soon after the second episode of Siddhanth. I couldn't accept it because I was not prepared for another serial.
Siddhanth is the only Indian TV show to be nominated for the prestigious Emmy awards. How was that experience?
It felt very good.
Why did you quit Aisa Des Hai Mera on Sony?
It did not get good reviews, the character was not established, there was not much for the hero to do. I was not satisfied. I quit with mutual consent.
Kasamh Se is one of the popular serials today. There is a strong character like Jai Walia, and you play the negative role of Tarun Sablok. Do you think you have made an impact?
When Ekta Kapoor spoke to me about the character of Tarun Sablok, she told me it would be something like Mr Bajaj of Kasuti Zindagi Kay. We have got a good response. I feel insecure when expectations are high. Tarun Sablok is not a negative role. If you think from the society's point of view, then it is not accepted because he is in love with his friend's wife. If you think from his point, then he is right because he loves her and it is unconditional love. I think I have convinced the audience.
Are you comfortable doing romantic scenes?
Yes, of course.
Among the roles that you've played which is your favourite character and why?
Siddanth is very close because it is my debut role. And I can relate to the character.
Do you identify with any of your onscreen characters? Which one and why?
As I have said, I can relate to Siddhanth, Sanjay Apte (Thodi Si Zameen Thoda Sa Aasmaan), and I can relate to Tarun Sablok (Kasamh Se) as long as it is a positive role. I could not relate to the character I played in Aisa Desh Hai Mera. I was introduced in the serial after 60-70 episodes and there was not much for my character to do.
Where do you see Indian television going at this time?
In another five years, we will have 10 more channels with at least 10 authentic serials. It will not be easy to keep up the TRPs. There will be lot of choice and competition. We want someone like Ekta Kapoor to start a new trend with male-dominated serials. I am lucky that way because I worked in male-dominated serials.
How do you unwind after a hectic schedule?
I go out on short trips with my family whenever we get time. I normally spend my time watching movies and listening to music.
Are you open to Bollywood?
I have got film offers; talks are on but nothing is finalised. I would like to do more parallel movies compared to commercial movies. I like the kind of movies Shyam Benagal and Shekhar Kapur make. Established actors survive longer than stars.
Any other serials in the pipeline?
I have only Kasamh Se in hand. I want to do one serial at a time. Maybe after Kasamh Se, I will take up another serial. I have just done some ad campaigns. Now I want to do some films, if I get a good role.