| | |
| --- | --- |
| Kiranjit Ahluwalia | |
| | |
| | |
| | |
| | |
| | |
| | |
Advertisement
April 03, 2007 18:28 IST
Last Updated: April 04, 2007 13:40 IST


One glance at Kiranjit Ahluwalia and she can easily pass off as a sportswoman.

 With short golden coloured hair, cool looks and loads of attitude, she is the embodiment of the never say die spirit.

But when it comes to her past, Kiranjit can't help but shed tears of pain as she recounts 10 years of domestic abuse at the hands of her late husband.

Kiranjit, 51, killed her husband Deepak in London in 1989.

"The day I killed him I felt liberated. I knew I had to go to jail but life was already a jail for me in that marriage," says Kiranjit.

Bollywood star Aishwarya Rai was so impressed by her story that she decided to do a Jag Mundhra's film on Kiranjit, Provoked, that will release on April 6.

'Ash proves her talent in Provoked'

Ask how it feels to have a film made on her life, Kiranjit says, "I am happy because I want to give a message to the society."

Kiranjit, a native of Punjab was married to Deepak, who worked in England's postal department

"I was brought up in an Asian culture where women were expected to be quiet and not protest against injustice in their marriage, because a husband is everything to them."

But as the abuse continued she could not bear it any longer. "As time went on, it became worse. He started beating me many times without any reason," she recalls.

"Every minute was painful being in that relationship. I never knew what would be his next form of torture," she says, wiping back tears.

One day she decided enough was enough. "I could not take it and I ended it all," she says.

Arrested on May 15, 1989, Kiranjit was incarcerated at a women's prison in Holloway. The worst part for her was the pain of separation from her two sons. "That was a horrible time in my life," she adds.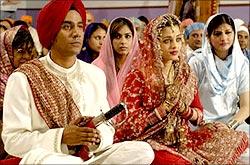 But during her time in prison she learnt English language and made new friends. Even the police officials became sympathetic. And with the intervention of Southhall Black Sisters she was finally set free after spending more than 3 years in jail. 
Today, Kiranjit works in the postal department and has been reconciled with her sons, now 22 and 21.
Asked if she could ever fall in love again she says, smiling, "I will not allow any man to touch me now. My husband was the first and last man in my life."
"I feel all men are not bad. Men should consider their wives as partners and not as private property," she says.
Kiranjit, however, cautions other women against following her actions. 
"Never do what I did in life. But at the same time never suffer in a bad marriage. If you are unhappy in a marriage, get out of it. Believe me there is life beyond your husband."