| | |
| --- | --- |
| Jag Mundhra | |
| | |
| | |
| | |
| | |
| | |
| | |
Advertisement
April 02, 2007 13:00 IST


What do women want?

This is an eternal question for which men will never find an answer.

The same may be true for many filmmakers in the queue to sign Aishwarya Rai for their films. Indeed, what does it take to get Ash to do a film?

She rarely gives dates, but director Jag Mundhra managed to get Ash and successfully complete Provoked with her. The film releases this Friday, April 6.

Asked how he convinced Aishwarya to be a part of the film, Mundhra says, "All beautiful women want the world to know about them, more than their beauty. Aishwarya is an actress, and it is actress within her that made her do this film. She has acting talent, and she proved it in Provoked."

Provoked is a film based on the book, Circle of Light written by Kiranjit Ahluwalia and Rahila Gupta.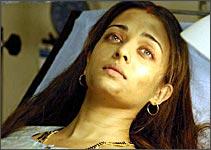 It is the real story of Kiranjit, a housewife in London who was a victim of domestic violence. Fed up of her husband's torture, she killed him in 1989, after ten years of an awful marriage.
Mundhra says, "After my film Bawandar was over, I happened to meet Kiranjit and speak to her at an event. I asked her what she felt when she killed her husband and she said, 'I felt free.' I was very touched by that line."
Kiranjit gave her biography to Mundhra to read and her friends insisted he should consider making a film on her life.
"After doing Bawandar, I felt that the central character in the film Saanvri never got justice from the society but here Kiranjit has got justice in life, and today her children are with her. So I felt it was a great story to be told," says Mundhra.
"Kiranjit is such a powerful woman that she amended the British law, and I feel that is quite an achievement," adds Mundhra.
Asked about the film's box office prospects, Mundhra snaps, "I am not making Dhoom 2 in which Hrithik Roshan lands on a train, and in the next shot he is wearing a Queen's clothes. This is a real story. It is a sensitive subject. It is meant for a particular audience, and we will make money if that audience likes it."
Born in India, Mundhra has been staying abroad for more than 35 years, and has made all kinds of films. The film that shot him into recognition was Kamla, where he told the story of a woman bought by a journalist. It was a real story that created a furore in Indian politics in the early 80s.
"Oh please! I lost a lot of money while making it. I can only say that film was Deepti Naval's best performance till date."
Mundhra calls himself a global citizen as he is travelling all the time. "I am in Los Angeles, New York, London and in Mumbai. I have been doing this now for very long," says Mundhra.
Provoked has been suffering from release issues, the film originally scheduled to release in November 2006. "You have to ask the producers that question and not me," says Mundhra. "I had completed my film much in time and it was screened last May in Cannes."
So what happened to his film on Sonia Gandhi? "Everything is ready but that will begin in 2008 and not now. At present, I am busy with my other film, Shoot on Sight."
Images: The woman who will play Sonia Gandhi
Naseeruddin Shah and British actress Greta Scacchi will act in Shoot on Sight, based on an Islamic British police officer living in London. It is loosely based on the true story of Tariq Gafoor, spokesperson of London Police, and the impact on his life after the 7/7 bombings in London.
"It is a story about a Muslim police officer who has to choose between faith and his duty. It is a very interesting story."
Amitabh Bachchan was supposed to do the lead role instead of Naseer but he dropped out at the last moment. Mundhra says candidly, "I guess his advisors didn't want him to do this film because it is a controversial film. As far as Mr Bachchan is concerned, I had no problems with him."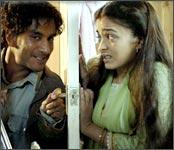 Revealing his personal experience in London, he said, "After the 7/7 bombing I personally felt racially discriminated against because I sport a beard. Cab drivers were reluctant to take me in their cabs because they felt that I might be linked to some terrorist group. If you recall, the London police killed an innocent Brazilian guy because of this phobia."
When told to comment on what one thing that lacks in Indian cinema and he says without hesitant, "Script, script and script. We don't have good scriptwriters today."
He further adds, "I must however add that we have improved a lot. We have great technicians. I must say very good ones. We are trying to be different."
So which was the last film he really liked? 
"The Namesake. I felt it was my story in a way. I came to the US in the late 1960s and have been uprooted. However, I have kept in touch with India regularly as I do come to India almost 7 times a year."