Advertisement
September 26, 2006


People expected the world after Iqbal's success last year. Nagesh Kukunoor responded with an utterly different film, Dor.

Starring Ayesha Takia [Images], Gul Panag and Shreyas Talpade [Images], the film has opened well, and Kukunoor is glad to hear of house-full notices as Raja Sen catches up with him to talk about Dor and how it happened. Here are some excerpts, but be warned of possible spoilers as the film is discussed:

The Dor story, for me, began last December at the IFFI in Goa [Images]. I watched a brilliant film called Perumazhakkalam based solely on your raving recommendation. Cut to now, when your own version of the same film is out...

It is based on a true story, as you know. The Malayalam director Kamal based his film on a newspaper article. But I bought the story rights from him, because that's just fair: they hit the story first, which is how I got to know of it. I thought it was a fantastic premise, and wanted to do something completely different with it.

Like taking it from rain-drenched Kerala [Images] to a cross-country trek, for example.

You know, that's where it all came together for me. The setup, the one-liner of the entire film was always about this woman's journey to find another woman, but it was only when I opened up the geographical locations that I actually 'saw' the film. The visual contrast, the pristine locations, provided the perfect backdrop to this story of two women. I wanted to emphasise their isolation. I have often set them alone in a frame, because they are going through their respective ordeals completely alone. Yes, there are people along the way, but no one else knows their pain.

Is this a familiar milieu for you, though? Your films, from Hyderabad Blues to Rockford, have traditionally been set in backdrops you know intimately. Is this an effort to move out of your boundaries? Or are you just well versed with Rajasthan and Himachal Pradesh and we don't know it?

Actually, I've been on a drive -- this is pre-Iqbal -- to make visual films. True, the story is definitely the key for me, and that's where the primary focus lies. But a really good background helps your characters instantly connect with your audience. Iqbal, for instance, could very well have been the story of a lower-middle-class youth from Hyderabad -- isn't that just as believable? Instead, I chose to create this fabulist little village town. That was entirely by design.

I hadn't visited Rajasthan or Himachal, but I knew I would find great locations there. What I wanted to do with Dor was create tremendous visual drama, but make sure you forget it after the first wow, and concentrate on the characters and story.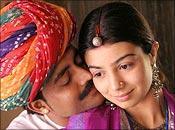 The film has several deft location-based touches, like Ayesha clambering atop a pile of conveniently-placed rubble to get a cellphone signal. Are these things you wrote into the script after shooting began, or was it all pre-planned?
That's a tough question. These things were in the script, but sometimes had to be tweaked based on the locations we got. Rajasthan, for example, was almost completely pre-planned. The visual you mentioned is just taking our urban life -- even in an apartment building in Mumbai we often have to crane our necks into corners to get a signal -- into a different context, setting up a funny visual.
But we had to change stuff around. For example, in my original sketch, I had planned a little compound with this chabootra (shack) as a phone booth in the middle of nowhere with a tree next to it. But we didn't find one, and shot without a tree. Then, talk about a lucky coincidence, this is what led to us shooting Ayesha in a blood-red sari against the stark white wall of the chabootra, with nothing else to break the frame.
In Himachal, after we got there and saw the locations, we went almost completely on the fly. The mountains are different from flatland, they blow you away and it takes a lot to frame them correctly, keeping the depth and perspective in mind. Once we got there, I realised it would be a shame to waste any of it, so shots that were originally planned as interior shots were all shifted to the exterior. Gul's first shot in the film (where she's fixing the house) was meant to be an interior shot.
Which brings us to the actresses. Perumazhakkalam starred the experienced Meera Jasmine [Images] and Kaavya Madhavan [Images]. You are getting applause for your decisions now, but Ayesha and Gul are both relatively inexperienced. In a film so strongly about two powerful characters, didn't you want somebody more...
Seasoned? Sure. I take it you mean serious, proven actresses like Tabu [Images] and Juhi Chawla [Images], and I must tell you they were considered. Casting in India is a long process though, and gives you time to think. I'm sure Tabu and Juhi would have given powerhouse performances, but I think, in this story, the only way to create empathy is to keep the character younger. So, if you take away Ayesha's baby face, I don't think the emotional connect is as strong with Meera's character.
What brought these two actresses in particular to mind?
First of all, Gul could pull off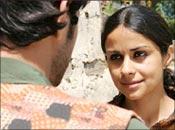 a 'pahari' look. She's a Punjabi girl, but she's 5' 7", has a big frame, is lean and fit and her skin-tone works for Himachal. She auditioned and was great. Someone suggested Ayesha during the casting process, and I was stunned. I hadn't seen any of her work, but when I was told Naseer cast her in his movie (Yun Hota To Kya Hota), I thought there must be something to her.
I watched some scenes from Socha Na Tha, and she emerged as a really natural actress. What really did it for me was this one scene where she's in her room facing the camera and Abhay (Deol) is coming up behind her -- she knows he's coming and the emotions just play on her face. She's fantastic. I've actually even used an echo of that scene in my film, with Meera and (her husband) Shankar.
I got strong actors, so I wanted to let them do their thing. It's one of the great joys of cinema to see good actors in long, static takes. Very few actors can work without the support provided by a moving camera. It's a luxury for a director to not have to rely on the camera's movement and just let the actors take over. Gul was very good, but I had to work on her acting. With Ayesha and Shreyas, I just let them go wild.
Don't miss Part II of the interview, where Nagesh raves about Shreyas Talpade and discusses ending Dor the way he did.