Home > Movies > Interviews

The Rediff Interview / Abhijat Joshi

How Gandhigiri found a place in Munnabhai

September 26, 2006


| | |
| --- | --- |
| Abhijat Joshi with director Rajkumar Hirani | |
| | |
| | |
| | |
| | |
| | |
| | |
Gandhigiri has become part of our vocabulary, and a big chunk of the credit for this goes to Dr Abhijat Joshi.
He, along with director Rajkumar Hirani and producer Vidhu Vinod Chopra, co-wrote Lage Raho Munnabhai, a massive 2006 hit. Starring Sanjay Dutt as the lovable goon Munnabhai and Arshad Warsi as his sidekick Circuit, the film has re-introduced Mahatma Gandhi's principles in a very entertaining way.
Abhijat takes the 'practice before you preach' saying very seriously. He has been teaching about Gandhi, besides doing playwriting, screenwriting, cinema studies and Indian literature in the Otterbein University in Ohio, United States, since the last two years.
Born and brought up in Ahmedabad -- where Mahatma Gandhi's Sabarmati Ashram is situated -- Joshi has been reading about and imbibing Gandhi-ism since his early years.
He talks to Priyanka Jain about Gandhigiri, why it worked in today's time and how the script of Lage Raho Munnabhai evolved.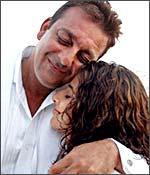 How did the Gandhi influence on your life begin?
I have been interested in Gandhi's writings since childhood. I have grown up reading his secretary Madhavbhai Desai's diaries of his experiences with Gandhi and works based on Gandhi by Gujarati writers like Kaka Kalelkar and Uma Shankar Joshi. I am also deeply influenced by Marathi social worker (and a follower of Gandhi) Sane Guruji'slife.
I had done a lot of research on Gandhi when I started work on a television series called Post-dated cheque, which did not materialise. In 1997, I interviewed some freedom-fighters who had faced brutal attacks at the Dharasana salt factory with Gandhi while picketing against the salt works. I was amazed by their sense of optimism.
These people fought hard for the country's freedom. They are also witness to the present sorry state of the nation, but they refused to give up hope. They would smile and say, 'things will get better'.
Looking at my interest in Gandhi, Vinod encouraged me to work with Raju (Hirani). Combining the life of Munna and Gandhi was Raju's idea. I had seen his earlier film, Munnabhai MBBS, and was blown away by the ambition of the next film.
It was important for us to dispel the myth about Gandhi being a sedate, ascetic person. We wanted to show his other side -- witty, humorous, light-hearted and creative.
Were you aware of the pressure and risks that came along with the project?
Yes. There was apprehension that the film may not live up to its expectations. But we also believed that perseverance and hard work will possibly take it further than the first one.
We worked for three months in Mumbai. Then Raju stayed with me in the US for 35-40 days. We had a rule. Raju and I would go out on a walk and not come back until we had a scene. The rule was that the scene should make us laugh or cry or should contain some really provocative thought. If it was not doing one of these things, the scene could not be part of the film.
Once while walking at Bandra (a Mumbai suburb), it starting raining heavily. But because of our rule -- that we cannot return untill we had a scene -- we just kept walking and did not return till we had the scene.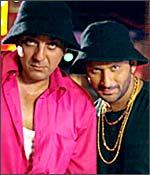 There is a scene in the film in which a professor is being thrashed. You are a professor. What did you feel about that?
I have seen all kinds of professors -- some great and some not so great.
Everything in the film is based on satire. That's why this did not seem out of place. Also, the scene is from the period in Munna's life when he had not yet learnt Gandhi's principle of non-violence.
Raju and I never had any creative differences. He has a fabulous heart. Either the scene would make him laugh uproariously or his eyes would become moist. That was the acid test for me.
I learnt scriptwriting from Vinod, who has written incredible screenplays like Khamosh and Parinda. Combining that with Raju's refreshing ideas was wonderful.
How much do you think Gandhigiri will work in today's times?
After watching Lage Raho, my ex-neighbour called me at 1:30 in the morning. In a sombre tone, he said, 'We had liked an apartment and were going to put our life's savings in that but the Vastu Shastri had rejected it saying the house will bring ill-luck. Before watching the film, we were debating which other astrologer to consult. After we saw the film, our family unanimously decided they were not going to consult anyone.' They bought the apartment.
That day I realised the impact this film could have. Over the centuries, great artists like Charles Dickens, Gibson and Arthur Miller have dealt with social problems. It doesn't mean that the problems vanished. But it is an important step in a particular direction.
That's how I view this film. An important step. Just one film will not make corruption or superstitions vanish. But it will start a debate. When people engage in debate, it creates an ambience through which eventually these things are confronted. If Charles Dickens had not written Oliver Twist, child labour may have continued longer. It did not put a stop to child labour in the 19th century England but it started something.
Did you always want to be a scriptwriter?
Bollywood began for me via theatre. I started as a playwright. My play Shaft Of Sunlight (about riots in his hometown Ahmedabad, Gujarat) won the BBC World Service playwriting contest in 1993. Vinod happened to see my play, and he wanted me to work with him since then.
After working in Vinod's writing team for Kareeb and Mission Kashmir, I took a break. I needed to learn more about my craft. I came to the US, got my fellowship in writing and wrote some plays. When I felt I was ready to take my craft to the next level, I started working with Vinod again.
Vinod and I have finished scripting Last Square (an English film that will be shot next year) and Eklavya -- The Royal Guard (starring Amitabh Bachchan, Sanjay Dutt and Saif Ali Khan and due for release in February 2007).
How do you juggle scriptwriting, teaching and playwriting?
As a college student in Ahmedabad, I spent time in auditoriums rehearsing plays that I wrote. I had a general interest in theatre and its potential to carry social messages.
As a professor of English Literature in Ahmedabad, I started working on plays about the closure of mills there and its impact. I drew from the real-life experiences of my students and their family. So theatre continued along with teaching.  
Teaching and scriptwriting are also compatible. In the US, I draw a lot of energy from my interaction with students. While I share my professional experiences as a scriptwriter with my students, the teaching profession gives me leisure and enough time to think about my projects and write.
I teach for two-three hours a day, stay in an academic environment and have access to the best libraries in the world. It's a very relaxed place to write.
I travel to the university on my bicycle and that itself is such a leisurely thing to do -- biking to your job, thinking about your next movie. Things don't get any better than that.


What do you think about the story?








Read what others have to say:





Number of User Comments: 13








Sub: gandhigiri

i think gandhigiri should be adopted today to solve the our national (terrism problem).


Posted by rajesh yadav









Sub: Gandhigiri

Many Bhagat Singh can be born in a year but one Gandhi in centuries is not possible. We have forgotten Gandhi-ism but now we will ...


Posted by Dhirendra









Sub: Abhijat Joshi's cheap shot at astrology in Lage Raho.

That was cheap shot Mr Joshi made, in the movie at Astrologers. I am sorry to say it reflects poorly on his research or the ...


Posted by Anand









Sub: hats off to u...........

well done mr.abhijat.


Posted by gautam









Sub: Excellent Movie

What a movie. Very few times in my life have I seen such a wonderful movie. After 1942 A love Story, Swades and Rang De ...


Posted by Sandip






Disclaimer