Advertisement
September 25, 2006 15:13 IST
Last Updated: September 25, 2006 12:40 IST


The only time I met the legendary actress Padmini was 10 years ago, in July 1996. You cannot grow up in Kerala [Images] without hearing about the Travancore Sisters -- Lalitha, Padmini and Ragini. Though I had not seen any of their earlier films, I still remember how excited I was about meeting an actress about whom I had heard a lot.

When I met her, she had just come back from Tirupati after performing sayana pradakshna (an act of devotion in which you roll on the ground around a temple's sanctorum). And that was to celebrate her 64th birthday! I couldn't believe she was 64; there were no wrinkles on her face or hands and her skin looked smooth and taut like a woman in her 30s. In a dark green cotton sari, she looked stunning and more beautiful than I had imagined. Except for her stained teeth, she looked every inch a beauty.

"It is all in your mind. When your mind is clear and you are young at heart, you look young. I am very religious, and I believe in a power called God and I make it a point to visit temples every weekend," she told me with a smile.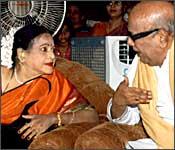 The Travancore sisters' initiation into films happened accidentally when an uncle of theirs invited renowned dancer Uday Shankar for dinner during one of their visits to Mumbai. Uday Shankar called the sisters to Madras to act in a film based on dance which he was planning to make.
That is how at the age of 14, Padmini became an actress. Her first Tamil film, Manamagal, was a big hit and Padmini became hot in Tamil. While her sisters concentrated only on Malayalam films, Padmini was more active in Tamil. But she remembered one Malayalam film Adhyapika (Teacher) in which she played the teacher. "I remember the movie was completed in just 13 days in Trivandrum. We got a National Award for that film."
She adds, "We sisters had a lovely time in those days because we were in the same profession. We used to act in films, and dance on stage. We formed a troupe called Dancers of India."
The members of the dance troupe included not only the three sisters but their cousins, Sukumari and Ambika, both well known actresses in Malayalam. (In fact, Sukumari acts in films even today.)
Dance was their passion, not films. What they performed in films -- the snake charmers, Krishna Leela, the story of Radha-Krishna, etc -- were picked up from stage.  And, they would travel all around the world with their troupe. In one of their famous dance dramas, Ramayana, Padmini played Sita and her younger sister Ragini, Rama. The eldest Lalitha was Ravana and Sukumari and Ambika danced as Hanuman [Images] and Bharatan respectively. "Being the tallest, Ragini always performed the male characters. And, as I was the shortest, I was the female lead all the time."
She also told me about the kind of roles they played in those days. "I used to play characters who were crying most of the time. Ragini was good at comedy roles and Lalitha in vampish roles."
She then compared the 1940s, when the sisters shone in films, and the 1990s. "There is not much of a difference between then and now. Of course, technically, films have improved a lot. Those days, we used to concentrate only on one film at a time. We used to read the full script and discuss it with the director who was the most important person. And, most of the directors in those days were studio owners and they themselves were the producers."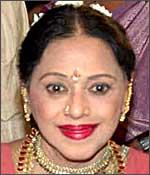 Though her voice was husky, she used to dub herself in all her films. "I used to act in Malayalam, Tamil, Telugu and Hindi films. And there was no dubbing for me in any of the languages. For that, you have to put in a lot of effort. I believe that no dubbing artiste can do full justice to what you do on screen. I don't know why today's actresses let their voce be dubbed. Lack of time? Lazy to learn the lines? We used to work three shifts but when we were doing the make-up, the dialogue writer would read the lines to us. That was how we used to learn the lines."
She also told me about how make-up changed when films changed to colour from black and white. "My first colour film was Valli in Tamil. Make-up was completely different in colour. In black and white, we would apply dark make-up with shades but in colour, it was pinkish and plain."
It was in 1952 that Padmini entered the Hindi film industry with a dance in Kalpana. But her full length role was in Mr Sampath (the film was based on a book written by R K Narayan) opposite Moti Lal. Mr Sampath was first made in Tamil with Pushpavalli (Rekha's [Images] mother) doing the role Padmini did in Hindi.
After Nargis [Images] left RK Studios, Padmini was the first actress to join it. The sisters knew Nargis and Raj Kapoor from 1953 onwards. It was at a cricket match between the film stars of Bombay and Madras that they met Nargis. While Padmini scored the highest for Madras, Nargis did so for Bombay. From that day onwards, both became good friends.
When Nargis and Raj Kapoor came to shoot Chori Chori in Madras, Padmini's mother gave them a house to stay in, close to where the sisters lived. So they used to meet everyday. Nargis used to visit Padmini's shooting and she would go and see Nargis on the sets. But more than Padmini, her younger sister Ragini was closer to Nargis.
In 1957, Lalitha got married and quit films to settle down in Trivandrum. In 1961, Padmini got married to Dr Ramachandran. In 1970, they migrated to the United States.
When I met Padmini in 1996, both Lalitha and Ragini were no more. "I miss them a lot," Padmini had said. "Once when Lalitha came to the United States, I made her dance on stage after 23 long years. We performed together in Chicago. When Ragini came, we performed on stage together. Those were unforgettable moments."
In 1992, when their niece, actress Shobhana, visited Padmini, they performed the dance-drama Valli Thirumanam. Shobhana was Valli and Padmini, Lord Muruga.
I had seen the last film of the late G Aravindan, Vaasthuhara (Mohanlal and Shobhana played the lead) in which Padmini had essayed a small role. I was curious to know how she ended up acting in an Aravindan film. "My son had gone to meet Aravindan. Aravindan asked him whether I would act in his Vaasthuhara. I accepted the role only because I wanted to work with him as I had heard a lot about him. He would barely talk on the sets. If he wanted to tell us something, he would come near us and tell us in a very low vice. He never interfered in our acting. We were given full freedom. Some directors make such a lot of fuss. But Aravindan was very different and I enjoyed the experience."
Among all the actors she had acted with, Sivaji Ganesan [Images] and Raj Kapoor were her favourites. She said work was very systematic and disciplined in the South while everything started late in Mumbai. "Sivaji would even reach the location an hour early. That was the kind of discipline he followed," she said.
When I took leave of her, she said as a parting shot, "I attribute my success and happiness to God. Without God, there is nothing."