| | |
| --- | --- |
| Anupam Kher | |
| | |
| | |
| | |
| | |
| | |
| | |
Advertisement
September 22, 2006 13:46 IST
Fables have a way of educating and inspiring.

Whether it's a tortoise beating the hare in a sprinting competition or a naive crab teaching a manipulative crane a lesson or the Khosla family retrieving their land from a goon's clutches, brain gains over brawn.

Khosla Ka Ghosla [Images] is not entirely a fable. But it follows the same school of story telling to a considerable extent.

You see Kamal Kishore Khosla (Anupam Kher), a retired service class man in Delhi, having nightmares about his family -- a niggling, dense wife, a wannabe tomboyish teen daughter, a workaholic elder son and an idle-minded younger son.

Clearly his bad dreams broadly hint how hopeless he deems them. But then, he himself can be quite crabby and controlling. Between you and me though, he is the typical uncle-next-door. And insecurities aside, his household is just like any other.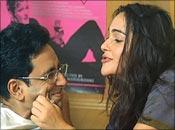 Khosla relies immensely on his sensible albeit self-centred computer engineer son, Chironjilal aka Cherry (Parvin Dabbas) to architect a dream house on his newly purchased plot. Cherry, meanwhile, reserves indifference towards his father's aspirations and theatre actress friend, Megha's (Tara Sharma [Images], a charming screen presence but a screeching dialogue delivery) affectionate demonstrations to chase the American dream.

While Cherry applies for a US visa and decides to go for a name change, Khosla gets busy asking Bunty (Ranvir Shorey), cocky, good-for-nothing high school dropout, to get name plates designed for their new residence in South Delhi's posh locality.

Khosla's enthusiasm is short-lived when he realises he's been duped by the broker and his land is unfairly occupied by a fraudulent businessman, Kishan Khurana (Boman Irani plays the loud bully with his characteristic stares, sneers and snorts).

When polite requests and arm-twisting attempts fail to do the trick, Cherry, aided by visa agent Asif Iqbal (Vinay Pathak) -- a former Khurana accomplice -- hatches a clever scheme to beat Khurana at his own game. At this point, the film truly begins.

Khosla Ka Ghosla takes a lot of U-turns and wrong lanes before it finally gets on track. The beginning portions of the film appear disconnected and abruptly established. Scenes take awkward pauses before stitching into the next cut. Individually, these episodes are lively but their transition into the big picture is bumpy.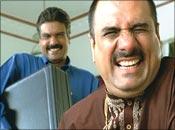 Even so, once the tempo is set, Khosla keeps moving steadily only to press the brakes around the climax. Considering the film was delayed for quite a bit, it unfortunately wears a worn-out appearance. It's not too hot on production values either.

Even with technical finesse not on its side, Khosla charms with its striking believability and everyday simplicity.

First time director Dibakar Banerjee and writer Jaideep Sahni capture the flavour of Delhi in the emotional climate and body language of its characters. Zippy numbers like Chak De Phattey and Ab Kya Karenge, by music directors Bappi Tutul and Dhruv Dhalla, infuse excitement to the proceedings.

Subtly done, the essence of Delhi's complex colours is evident in every scene, inadvertently lending credibility to the events. Be it the laughter club sessions in a local district park or Khosla's Karol Bagh style neighbourhood.

The realism in the situation and humour of Khosla easily strikes a chord. One hears of plot broker rackets all the time. But the tit-for-tat solution the makers employ is hardly plausible even if commendable.

That's where the cast gets mention. The actors successfully bring out the amazing contrasts and characteristics between them.

As the patriarch and leading Khosla, Anupam Kher [Images] conveys the confusion of an irritated conscience, swindled but compromising retired man and loving but emotionally reserved father with seasoned expertise. Parvin Dabas's character convincingly comes off age as the story progresses. Playing his kid brother, Ranvir Sheroy is a riot. He does the brash brat with an earthy accent and fast-talking attitude to hilarious effect.

Finally, Khosla Ka Ghosla scores for its unusual plot (pun unintended), spirited wit and great acting jobs. But even at a mere eight reels, the film feels longer than it is.

Rediff Rating: