Home > Movies > Reviews

This Shiva is a joke

Sukanya Verma | September 19, 2006 13:27 IST



There used to be a time when you would walk into a theatre showing a Ram Gopal Varma film smug with the assurance that you were in for a sensible, slick movie.

But, things have changed. And how! The blind faith admirers invested in his factory has evidently triggered off blind arrogance in the director. Are we now to lap up every meaningless carrot dangled our way?

Take the Bachchans out of Sarkar. What are you left with? A limp blueprint of The Godfather's soul and the nagging background theme of Govinda Govinda. His latest remake, Shiva, doesn't even have a Bachchan. It dares to ridiculously rest on the incapable shoulders of a non-acting cast -- Mohit Ahlawat and Nisha Kothari.

This is a pitiable job from the very director who made Shiva in 1990 -- a film so raw, thrilling and uncompromising, it went on to achieve cult status and catapult Varma to the big league. Barring the title and director, the two Shivas have nothing in common. You may be forgiven for forgetting the odd James, again a product of Varma's strange fascination with the original Nagarjuna starrer.  

Neither James nor the new Shiva follow the draft of the smashing, original script. And that's where they go wrong.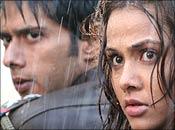 Trust me, you don't want to know this story. It's the kind of plot that gives MTV the right to spoof it.
There's the textbook cop, (Ahlawat) who punches people 24/7 as he takes on the failing law and order system. His allies are a bespectacled journalist (Kothari) with a sling purse 'n' pout, and four conscientious policemen who spend all their screen time chomping samosas. The baddies include a corrupt albeit chaste Hindi-speaking Home Minister (Dilip Prabhawalkar -- who plays the Mahatma in Lage Raho Munnabhai), and a heavily accented spineless goon cum wannabe politician (Upendra Limaye). Not to mention a flock of uncouth, overweight, dishevelled villains.
Sounds like one of those countless, corny cop sagas that made box office stars out of Amitabh Bachchan, Sunny Deol and Akshay Kumar, doesn't it?
It does. And it is.
Tragically for Mohit Ahlawat, now is the complex age of Rang De Basanti, Omkara, Kabhi Alvida Na Kehna and the aforementioned Lage Raho. A dehydrated Zanjeer is least likely to find any takers today.
The dialogues are lousy and dated. Lines like 'Agar tune usse nahi choda to yeh goli tere sarke paar hogi' (If you don't let her go, this bullet goes through your brain) have long passed their expiry date.
Ditto for the action, which is absurd and appears to draw inspiration from Sunny Deol's Gadar-Ek Prem Katha, where the hero takes on a row of creepy-looking louts. Plausible, isn't it, that 20 bulky men await their turn to be bashed brutually by Shiva as they approach him one by one instead of taking the group attack approach?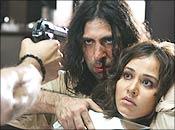 Sure, Ahlawat with his lean frame is perfectly capable of giving them a good beating, but he just doesn't have the simmering intensity or arresting aura to hold the viewer by the collar. He delivers his lines with the sulk of a little boy troubled by school bullies. Nisha Kothari plays a crime reporter with the same seriousness required to chew gum. She trades sincerity for sauciness and lets her elastic lips do all the acting. She bites them, quivers, pouts... you get the picture.
In the original, Raghuvaran exuded menacing energy with his smouldering eyes. In this Shiva, nasty is defined as a scowling ogre. That explains a series of repugnant performances from the bunch of incompetent villains. They evoke sniggers instead of awe.
One can always overlook an assistant doing a bad job of a debut, but it's unfortunate when the mentor goofs up. Hopefully, RGV will not take his audience for granted in future endeavours and do what he does best: create unconventional, exciting cinema.
Rediff Rating:

Want to see this movie? Check out Rediff Movie Tickets!



What do you think about the story?








Read what others have to say:





Number of User Comments: 13








Sub: Reviewing movies with hypocrisy...

the movie isn't bad as it is made out to be in the review. the movie is a tribute to 'one man army' concept which ...


Posted by carey









Sub: How come it took one week

How come it took one week for rediff to post review for a film. or else in the friday itself we will have 2,3 or ...


Posted by Sunny









Sub: RGV - whts wrong with you?

I am a hardcore fan of RGV..I still watch Satya once in a week...but Shiva 2006 is awful..awful.. DONT WATCH IT


Posted by Surya









Sub: RGV is a joker

It seems RGV is a joker now....he boasts on each of his movie as if they are remarkable pieces ...and after the flop he shows ...


Posted by shivam









Sub: it was a joke indeed

I totally agree with Sukanya. RGV shouldn't really take his fans for granted and deliver stupidity. I like RGV because he has dared to deliver ...


Posted by vikram






Disclaimer