Advertisement
September 15, 2006 11:38 IST


Bollywood has been experimenting with the portrayal of human relationships lately. Kabhi Alvida Na Kehna. Ahista Ahista [Images].

Sadly, it has more often dealt with relationships melodramatically, without actually going into their depth.

What keeps our lives going are delicate strings of relationships. When these strings are in place, the journey of life seems smooth.

But the day tides of mistrust, anger and insecurity hit relationships, the course of life tends to change dramatically too.

Director Onir brings back Nikhil Kapoor (who was the hero of My Brother... Nikhil) to drive home this point in his latest offering -- Bas Ek Pal [Images].

Set in Mumbai, the movie explores the subtle strands in the lives of five people. The protagonists, each of whom has different character traits, traverse into each others' lives and leave behind an indomitable mark.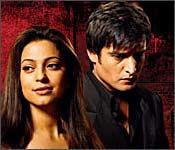 Boston-educated Nikhil (Sanjay Suri) returns to India after his parents died in an accident in the US. He is adventurous, flirtatious and slightly arrogant. The first place he visits on arriving in India is a pub named Anticlock. However, he is unable to enter the pub. The manager states, "Couples only." (Author's note: Bah! Pubs should do away with this rule). Then, Anamika Joshi (Urmila Matondkar) comes to his rescue.
Anamika is vivacious and assertive. An extrovert. She is a civil engineer. A modern woman. Anamika, drives a jeep (though over the years she swaps it for a Tata Safari), lives alone, wears designer clothes, works hard and parties harder. She prefers to live very much in the present.
It is love at first sight for Nikhil. But Anamika doesn't wear her heart on her sleeve. She chooses to keep her options open but tends to drop hints that day.
Nikhil narrates his encounter with Anamika to his childhood friend Rahul Kher (Jimmy Shergill [Images]) over a game of basketball. Rahul is a reserved and sensitive guy who prefers to think hard before making judgements.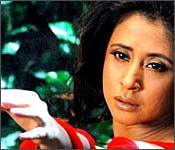 The fourth protagonist is Steve O'Brien (Rehaan Engineer), the son of a reputed builder. Ever since his business venture bombed, he turned to alcohol. His failure took a toll on his marriage. He constantly believes his wife Ira (Juhi Chawla [Images]) is cheating on him. Insecurity and jealousy, coupled with alcoholism, led to frequent fights between the two. During one of these fights, his pregnant wife loses her baby. Ira accepts that theirs is a failed marriage and wants to move on. Steve's possessiveness holds her back.
Nikhil, Rahul and Steve decide to go back to the same pub to see if Anamika comes back. She does. But things don't go according to Nikhil's plan. He fights with Anamika.
Then a gunshot rings in the air. That one bullet changes the course of the story and more importantly, the lives of all the characters.
Onir shows the change in the moods of his protagonists beautifully. Even the clothes worn by the characters undergo a change.
But some things are not in the director's hands. For instance, emotions. Despite having spent so many years in Tinseltown, Urmila has not yet learnt how to convincingly shed a tear or two; her efforts sound like an asthma attack).
During the first half the audience must spend time getting to know the characters and understanding their lifestyles. But in the second half, the story drags, the characters get more complicated, and the film becomes pretty boring. A faster narration may have worked in the film's favour.
The music is soothing, especially the Tere bin number, which sets the tone in the first half.
Bas Ek Pal is worth watching once. It's a reasonably good example of how movies on relationships can be made without too much melodrama like we just saw in Kabhi Alvida Na Kehna.
Rediff Rating: