Who is Mahatma Gandhi?
Apun ko kya karne ka hai?
What did he do for us?
Chal paka mat, matlab ki ulti kar aur baat ko rubber mat bana.
Why is October 2 celebrated in India?
Ab nikal le Mamu, meri toh hat re li hai aur public pak re li hai. 
These are the answers you would possibly get from a youngster, if you were to talk about Mahatma gandhi, his thoughts or his philosophy.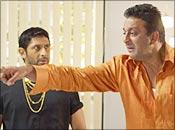 But Lage Raho Munnabhai not only answers these questions, it also entertains us while doing so. Even better, it raises questions in our minds about whether Indian society is heading in the right direction, or whether most of us are simply content to watch it decay.
Bole toh, dimag ki tubelight jalane ka kaam karti hai mamu!
Munnabhai (Sanjay Dutt) is back. This time, he's fallen in love with a radio jockey (Vidya Balan) just by listening to her voice. He wants to get her by any means and his man Friday, Sarkeshwar (Circuit, Arshad Warsi) takes it upon himself to help his bhai.
Now, Munnabhai gets a chance to meet his dream girl, but he first has to answer a quiz on Gandhian ideology during a live radio interview. So, Circuit kidnaps all the history teachers around and makes them answer the questions that our bhai, yane ke Murli Prasad Sharma is asked. So, of course, he wins.
Uske baad jo gaana hai mamu, sun ne layak hai: Card chapwale, suit silwale, samjho ho hi gaya!
Lyricist Swanand Kirkire deserves a special pat on his back for his excellent work. Dutt, Warsi and Boman Irani have performed even better here, than in the first part, Munnabhai MBBS.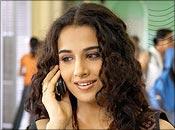 The actresses -- Vidya Balan and Dia Mirza -- are passable, while Dilip Prabhavalkar, as Mahatma Gandhi, is terrific.
Lage Raho Munnabhai tries to talk to our conscience, and awakens us. Munnabhai gives up his bhaigiri and starts telling the truth. But there is a drastic change of attitude among the people around him. Unscrupulous builder Lucky (Boman Irani) becomes his enemy, girlfriend Vidya Balan walks away and Circuit wonders if bhai ki hat gayli hai. The only person who stands by him is Mahatma Gandhi.  
Will Munnabhai change society with his thoughts? Can Gandhian principles work in today's world? Watch Munnabhai, and you will know.
Rediff Review: