Advertisement
September 01, 2006 17:57 IST


Three years ago a local goon Munnabhai along with his sidekick Circuit was projected on the silver screen. They became the cinematic equivalent of soup-for-the-soul, winning awards and hearts.

They were unique characters etched from life, and after the film's release took a life of their own.

Three years later, they are back. Except for the two characters, the film is not a continuation of the same story or repeat of other characters. Also back are Boman Irani, Jimmy Shergill [Images], and Kurush Deboo. Vidya Balan [Images] replaces Gracy Singh [Images], while Diya Mirza [Images] and some new faces are added to the list. And while you do get your fill of maamus and Mumbai-speak, the one thing you miss most is a jaadu ki jhappi.

If in the last film Dutt's real life father the late Sunil Dutt played his reel life father, this time he shares screen space with the father of the nation Mahatma Gandhi [Images], played by Dilip Prabhavalkar.

This time around, Munnabhai loses his weapon of violence after an encounter with Bapu himself and is mentored by Gandhi himself in using the weapons of love and non-violence.

The result?

If Munnabhai as a doctor won hearts, then this time around he comes back with an even bigger heart.

The film is about finding the Gandhi in all of us, but never sounds didactic or preachy. Rather, it makes you laugh and cry through the whole journey during which it touches various issues of parental neglect, stagnation of the older generation, corruption, evil builders, bad manners, superstitions... the works!

Munnabhai is in love with a radio jockey, Jhanvi (Vidya Balan), and this time around does dirty work for a builder Lucky Singh (Boman Irani). Singh's motivation is to get his daughter married to a very wealthy man's son, and he will do whatever he can to ensure it happens.

Vidya Balan lives with her grandfather in a bungalow called 2nd Innings shared by 6 other elderly men who have been left by their children and society. This is the very bungalow Lucky Singh needs. The complications that arise from this form the crux of the story as Munnabhai lies to win Balan's heart by pretending he is a history professor.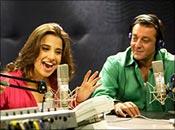 To add to Munna's confusion, he starts seeing Gandhi, who warns him of impending trouble if he lives through his way of the gun. Once Munnabhai's world crashes around him he adopts the Gandhian principles of truth and non-violence with hilarious and heartrending moments.
The only thing one wonders is when Lucky threatens to reveal Munna's identity, why does he wait for a few days till Munnabhai starts his agitation, instead of stopping him then and there. Also if the radio programme Balan and Munnabhai appear on is on Worldspace Radio, how can it be heard on normal radio sets? But barring these you never encounter any bumps in the whole ride.
Technically and production-wise the sequel is a notch higher than the previous film, but the main challenge was for the scriptwriters to match up if not go one better than the previous film, and Abhijat Joshi and Rajkumar Hirani deliver big time. The film is a prime example of a great script with sure-handed direction at its best.
Each actor is well cast. It's hard to speak about Dutt since he is Munnabhai, it's like a role he was born to play. All his life he has played roles casting him as a violent underworld character, but Munnabhai is his and his alone. It's almost like he has been acting all these years in preparation for this role. If ever someone decides to remake Munnabhai, their plans will have to be shelved as they won't have Dutt.
Arshad Warsi's [Images] career was revived with the original, and he delivers what he does best. Boman Irani is back again after playing several insipid characters in his last few films. Lucky Singh's character is multi-layered, evil and yet good in his own way, with an infectious roguish charm. Vidya Balan is an actress to watch out for. She enacted a complex Parineeta [Images], and here flashes her pearly whites and charms in a way Gracy Singh simply failed to do.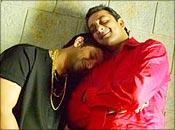 The music of the film seems okay when one listens to the album in isolation, but watching the film, the songs are exactly what the film needs, pleasant and soulful throughout with a background score that enhances them, using the soundscape of the songs itself. The cinematography and the production design complement each other and stay true to the film.
In the end the film's true hero is Rajkumar Hirani, who has written, edited and directed the film. Like the Frank Capra classic It's A Wonderful Life, this Munnabhai edition is a film for people of all ages, timeless in its appeal as it aims straight for the inherent hope and goodness in all of us. It shows the Gandhi in all of us, shows things we have to choose to ignore. It makes you feel good about yourself and what you have.
We live in a cynical world, but even in such times, sometimes a person, book or film comes along and shows you a tiny crack in the wall behind which there is a lot of light, and suddenly your heart is full of happiness. Lage Raho Munnabhai [Images] is one such film that makes you laugh, makes you cry, and also makes you feel good to be a human being.
Rediff Rating:

Suparn Varma is a former rediff.com employee and has directed the Fardeen Khan-starrer, Ek Khiladi Ek Hasina.