Advertisement
October 27, 2006


The original bad girl was incredible in Chandra Barot's 1978 Don, and not just is Zeenat Aman [Images] amused by Farhan Akhtar's remake, she's also gearing up for a return to the silver screen.

Managing Editor Vaihayasi Pande Daniel caught up with Zeenat, who played Roma in the original film, and here's what the actress had to say:

Have you seen the new Don?

Yes, I did.

Farhan called and personally invited me to the premiere; I went. Well, I enjoyed it thoroughly. I thought Shah Rukh was superb.

How would you compare Amitabh Bachchan's [Images] Don with Shah Rukh Khan's [Images] Don? Not in the sense of who did it better, but the differences they brought to the role?

No. No, I wouldn't go there. I wouldn't start by comparing them because I think the treatment has been different. When Don was originally made there was nothing else to go by. It was the original and this time around they have had a definite story to use and maybe play around with. And technologically they are completely different films made in completely different eras. And in terms of performance, I wouldn't even begin to go there.

But what was different between Shah Rukh Khan's Don and Amitabh's Don?

I think Vijay was missing. You know a lot scenes given to Vijay in the original Don were not really there. Not that I miss it. I just sat through the film and just enjoyed it. It was wonderful. I didn't go there thinking I would pick flaws and I don't want to pick flaws. I thought Shah Rukh did a brilliant job of Don.

So you enjoyed both films?

Absolutely.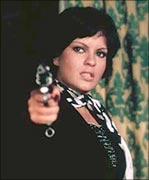 What were your feelings watching this film?
I was smiling throughout because I had such a sense of nostalgia especially about some the spoken lines which were from the old film. And some scenes of Roma which were the same spoken lines and you know of course Khaike paan Banaras wala. I was just smiling. I went there to enjoy myself and I did totally. I thought it was very well done.
Was it a strange feeling to watch Priyanka Chopra [Images] do the same scenes you did in the old Don?
Not really. It was just old wine in new bottles. I thought she did a very good job. She looked lovely and did very well.
Was the whole cast of the old Don invited?
I have no idea. I can only speak for myself. I don't know. I don't know who was there. I think you have to research that somewhere. I know that Salim Khan, who was one of the original screenwriters, was there. He came over and talked to me and you know we were just happy to see Don. Him, I definitely saw. And Helen. Don't forget the entire multiplex was taken over and it was being shown simultaneously on five different screens. It was difficult to say who was there and wasn't.
When you all were putting this film together, so many years ago, did you ever get a sense that this film would be so big?
When you do a film, you always hope that the film will do well but you don't think beyond that. I certainly wasn't thinking of 20 years, more than 20 years, down the road, for sure. Nobody thinks that far ahead. Don was released in 1978. It is more than 25 years ago. You make the film. You enjoy making it. You hope that it does well and people like your work and that's it.
By remaking Don hasn't Farhan made it a bigger film? Wouldn't you agree?
There has certainly been a lot of media curiosity about it. That's for sure.
But it has certainly made Don a phenomenon?
I don't know. Has it? I'm telling you, I have no idea.
What are the projects you are working on these days?
I just had a film released. And I just shot for a film in Malaysia. I am looking to play age-appropriate parts in good projects of good filmmakers. I have taken a very long hiatus from films because I was busy with my family and now that my boys are older I want to do good work
When one is at work you feel like you have never been away. It is effortless.
You were part of a whole trend of films in the 1970s. When you look back at that era what are your memories and nostalgia about that era?
I really don't look back. I am very grounded in the present. I live in the present and I enjoy the present. It is when people who talk to me and remind me about these films that (I think about it). I just think that I was very fortunate to have had the opportunity to work with some very fine filmmakers in the industry. I worked with some wonderful people on some really interesting projects. So I consider myself very fortunate.
No nostalgia about those days?
No, no. I just know I was really busy. I think I worked (on films) back to back. It was a great time while it lasted and I enjoyed it. I made over 81 films as a leading lady, so I am not in nostalgia mode.
You made a slot for yourself in Hindi cinema that nobody else had. If you had to do it again do you think you would do it the same way? What was it like to be the bad girl of Indian cinema?
It was totally by accident and not by design really. I was cast in Hare Krishna Hare Rama. That became a hit, a cult film. Filmmakers repeated me in roles that had shades of grey as opposed to either black or white. Films succeeded and it went on from there. One never really planned it. And I wouldn't change it for anything because I really had the opportunity to work for some of the greats.
How do you rate yourself as an actress?
I think my potential was never truly tapped. And I think in a lot of films that I did it didn't go beyond the physicality because those were the qualities that worked and I think I never did get my just due as an actress. Nobody ever thought of me as dumb. They always knew me as cerebral, a thinking person. Educated and so on. But I was always given glamorous roles.
But in a few films I had some good things to do and some good work. I did films like Bandhon Kachche Dhaagon Ka, and there were some wonderful scenes in Satyam [Get Quote] Shivam Sundaram. There were a lot of scenes in a lot of films.
But you know what happened: the songs I did went on to became big hits. The song from Qurbani. Or Yaadon ki Baaraat. So the glamour always overshadowed any other potential. Of course things have changed around a lot for these other girls because they get a chance to really showcase an all-rounded (set of talents).
So at the time was it frustrating for you to only have to play glamourous roles?
No. I was not frustrated. I knew I was doing good films with good people but one was never really given any opportunities beyond The Box. But it doesn't matter. Because now when I come back to work and I am not glamorous anymore and I am an older woman, maybe I will get good parts then! (laughs)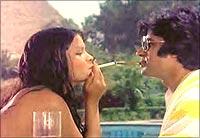 There were lots of difficulties at the time when Don was being made, especially since producer Nariman Irani ran out of funds. But what pushed everyone to get this film out?
Nariman Irani was such a wonderful man. I had just worked with him on Roti Kapda Aur Makaan. And Chandra Barot had been Manoj Kumar's chief assistant. We had all worked together on Roti Kapda Aur Makaan and when they talked about the project and wanted me in it, I was very happy. And we didn't work on it like it was a unit or a set. It was all very family-oriented. So much so that when he passed away, I did not take any of my renumeration. I just wrote all of it off. I didn't get any of my payment for Don.
At that time one felt really really bad (when he died) and of course when the film went on to be so successful what was even sadder was that the person who should have enjoyed it wasn't there.
Any great memories from the shooting of Don?
I remember making Khaike paan Banaras wala at Mehboob Studio. I remember how earnestly Mr Bachchan shot for it. He was never really satisfied with his shots and kept doing take after take after take, until it was absolutely perfect. Of course it was the last thing that we did actually shoot for the film. And when I watched Shah Rukh I was just smiling. I thought he did it brilliantly as well. Shah Rukh was quite brilliant. It was such a sense of deja vu and I was so joyous watching the film and I am very glad Farhan and Shah Rukh have made the film. I enjoyed it thoroughly.
Any other memories?
For me it was a very casual, happy, laid-back time. I was never under any pressure when I was shooting for Don. I was always just very, very happy. Chandra is a good friend of mine. We all worked together as good friends. And Nariman Irani was a wonderful person. So it was very easy. It was always a special movie because we had a lot of fun doing it and we did it with a lot of interest.