A rock star (Kria) and a doctor (Suraj Rihan), who have no reason to meet in life, end up bumping into each other and fall in love.
Shiney Ahuja's [Images] Dr Rihan is a serious person while Sushmita Sen's [Images] Kria is all about fun.
She has an adopted 12-year-old son (Julian Burkhardt), and two women constantly hovering around her -- her business manager Kim Sharma [Images] and aunt Maushmi Chatterjee. 
The doctor knows that he is in love but cannot his WHAT? feelings. So the rockstar simply hugs him and says she is in love.
But, wait a minute! Dr Rihan is a married man.
Kria breaks down when she learns this. But later, she discovers that his wife is a vegetable ever since an accident five years ago.
Meanwhile, Kria's son falls ill, and she discovers that he has a hole in heart. He needs a heart transplant and an urgent donor.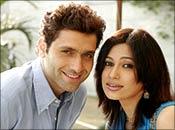 Will her son be saved? Will Dr Rihan and Kria come together? That forms the suspense of the film.
Sushmita Sen and Shiney Ahuja do their best to save the film but the script and dialogues are so shoddy that it is impossible for them to do so.
Anu Malik's [Images] music is loud and bad.
Kim Sharma apparently has a special appearance, but she's onscreen all the time!
And do you know what's worse than Maushmi Chatterjee in a film? Two of them! And that, especially when she tries to speak in English, with the wrong pronunciation. Besides, one of her characters tries to be funny, and only ends up getting on your nerves.
Rediff Rating: