| | |
| --- | --- |
| Sastry | |
| | |
| | |
| | |
| | |
| | |
| | |
Advertisement
November 30, 2006 16:31 IST


His debut film, Tiladaanam, fetched him awards and accolades including the Indira Gandhi [Images] Award (Swarna Kamal), the Nandi Award (by the Government of Andhra Pradesh) and the New Currents Award at the seventh Pusan International Film Festival in South Korea.

K N T Sastry, a film critic and writer, turned a filmmaker with a documentary Surabhi (on the theatre group of South India), which won a National Award. His documentary, Harvesting Baby Girls, funded by the Jan Vrijman Fund of Amsterdam got him critical acclaim as well.

Sastry's second film Kamli... My Daughter, starring Nandita Das, Shafi and Tanikella Bharani, released to good reviews last week.

Radhika Rajamani spoke to Sastry about the film, which has travelled to film festivals in Pusan, Mumbai, Pune and Trissur.

How was the experience at Pusan?

This was my fourth visit to Pusan. I was once on the jury, then I took Tiladaanam, pitched Kamli and finally, screened Kamli. The people are very enthusiastic. And the question-answer session was interesting. This year, there were four Indian directors, besides me -- Murli Nair, Kabir Khan and B Vishwanath. It gives us good exposure.

Kamli got a blanket invitation for the festivals at Vladivostok (Russia [Images] in August 2007) and Melbourne and Sydney (April 2007).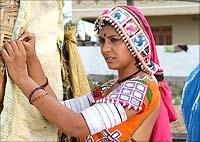 Was your documentary Harvesting Baby Girls the take-off point for Kamli? Did you feel as a feature film it would reach a wider audience?
Yes, to some extent. The lambada community (now living in Andhra Pradesh) is a marginalised community. Nobody bothers about them. They have not been exposed in too many films. The lambadas consider the girl child to be an ill omen while a boy is 'a harbinger of good life.' We know how many boys today look after the parents. So I wanted to show this practice of selling the girl child.
How did you get interested in this practice of selling the girl child which is rampant in the lambada community? Was the film inspired by real incidents?
It happens in many parts of the world. Every now and then, one reads stories of such incidents. The film is a reality. In rural areas, the girl is sold for money and in the urban areas, the girl is swapped for a male child in hospitals. I wanted to show both sides, so I made a story which is positive.
You struggled to find a producer for Kamli. I remember you telling me earlier that the late Soundarya evinced interest in the project. How did you finally find producers Hari Charana Prasad and Sukanya?
When Soundarya expressed a desire to produce films, I narrated many stories to her. She chose Kamli. But unfortunately, she died. I went to Pusan and pitched this story in the promotion plan. One person from Netherlands came forward and agreed to give me 25, 000 euros. Meanwhile, Hari Charana Prasad wanted to see Tiladaanam, so I sent him a DVD. He was keen on funding. I told him about the Netherlands financier and the possibility of collaboration, but the couple wanted to do it themselves.
How did you keep yourself motivated in this phase?
I used to feel depressed and wonder whether it's worth it. But I wanted to make the film.
Were the producers involved with the creative aspects too?
My condition was that the film will be made by me and I would be involved with the creative aspects, including the selection of the technical team. There was no interference from the producers and even when there was a tragedy (a death) in their family the day before the shoot was to begin, they allowed me to go ahead -- though for a few moments I thought this project was jinxed again.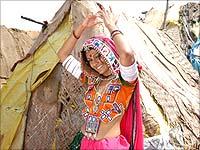 How did you research for the film?
Part of the research was done when I made the documentary. Later on, I went with Shafi to the lambada huts at Champapet and Jillelguda and observed the way they lived, the kind of food they ate, the way they ate, their dress and mannerisms. In fact, for the music, we recorded songs of their street singers in Warangal and Mahboobnagar.
How have you worked on the narrative?
The film is not linear -- I go back and forth in time. I call it a collage of memories of Kamli. When I first wrote the script for Soundarya, it was linear. Then when I re-looked at it, I felt it was melodramatic. So I thought the best way to avoid the melodrama was to go back and forth in terms of lifestyle and incidents.
Are you inspired by Wong Kar Wai in this aspect?
I am inspired by his style of filmmaking but cannot compare myself with him. His films are futuristic. My narrative is layered. I have shown a flashback within a flashback within a flashback. I was extremely exhausted after shooting the films. For three days, I was just lying down. Then I wondered when death is near, the memories of life flash in the mind and there is no sense of time. They are disjointed. So that helped me in making the film the way it is.
Tell us more about the film.
The film has a marriage sequence with a breezy song. There are five songs and three fights. But the film is not a commercial one. Since it is called a Ballad of Kamli, I have more of lambadas in the movie than actors (there are only about seven actors). I have used songs sung by their singers. In fact, one of the songs which they sing speaks of selling the girls. It runs like this: let us go to Hyderabad and sell our children and the lofty households will buy them. I have shot the film in lambada settlements.
How did you select Nandita Das and Shafi for the lead roles?
After Soundarya, I thought Nandita would fit in as I required a mature woman. Moreover, Nandita is exposed to art cinema and she has those sensibilities.
I had read an interview of Shafi in a newspaper where it was mentioned he was from the National School of Drama. I saw a few of his commercial films where I felt he was under used. He has great potential as an actor. Both Nandita and Shafi have done good jobs. So have the Tanikella Bharani and Kota Shankar Rao.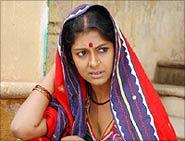 You seem to be having most of the technical crew like Sunny Joseph (cinematography), Bina Paul (editing) and Issac Thomas Kottukupally (music), all from Kerala [Images].
They are all from FTII, Pune. Cinematography and editing is taught methodically at FTII. Sunny, Bina and Issac are interested in art cinema. Issac actually trained in direction but took to music. In fact, Issac knows where to use background score and silence. He knows where silence works a lot and he has used it effectively in Kamli.
What do you want to convey through the film?
I want to say the girl is as important as the boy. Bring up the girl without reservations.
Normally, offbeat films do the festival rounds and do not find releases in theatres. Do you consider yourself fortunate that Kamli is releasing in a multiplex?
The producers have gone ahead and released it. I am a bit pessimistic. I told them to wait till the film won an award or two before the release. It may not run too long as one needs to sustain these kind of films with tremendous hype and ad support.
As an offbeat film director, do you think multiplexes will come to your aid? How do you think such films will be promoted?
In multiplexes, one has to sustain the crowd. The rates of hiring and tickets are high. The government should come forward and give subsidies to such films and directors. In Karnataka, financial incentives are given by the State Government to offbeat directors whose films have national and international awards. In Andhra Pradesh, there is no government subsidy or support. Even though Tiladaanam won the National, Nandi and Pusan awards, my name does not figure in the AP Government list of filmmakers!
What next?
I want to make a film on the aftermath of globalisation. It will be a parody on mainstream cinema. The producer is almost finalised.