| | |
| --- | --- |
| Dhoom 2 | |
| | |
| | |
| | |
| | |
| | |
| | |
Advertisement
November 28, 2006 13:27 IST


Exceeding even the most optimistic expectations,

Dhoom 2

blasted through the North American market grossing $979,000 over the weekend in 63 theaters. The film, which opened on Thanksgiving Day in about 40 theaters, looted a mind-lowing $1.3 million for the four-day weekend. Though its gross in the United Kingdom was not available on Monday, the romantic adventure produced and distributed by Yash Raj Films is said to be mimicking its American run.

 

It is the third largest opening ever for a Bollywood film in North America -- and the biggest opening ever for a non-Shah Rukh Khan film, according to Gitesh Pandya of

Boxoffice Guru

. The opening record is still held by

Kabhi Khushi Kabhie Gham

, another Yash Raj film, with a $1.01 million weekend in 2001. Hrithik Roshan [

Images

], who plays one of the leads in

Dhoom 2 [Images]

, had a strong part in

K3G

, which, of course, had a bigger star cast dominated by Amitabh Bachchan [

Images

] and Shah Rukh Khan [

Images

].

 

Even The New York Times could not resist Dhoom 2, and ran a 350-word review on Monday. Calling the film 'giddy' and 'slick,' junior reviewer Rachael Saltz declared, 'The film is shot in sharp, primary colors, with sophisticated stunts, exotic location hopping and songs sung partly in English.'

 

While a huge hit in India, the first Dhoom was a box-office disaster on both sides of the Atlantic, but the new film could well surpass Shah Rukh Khan's Don which is exiting the theaters after grossing about $2.25 million ($2.8 million in the UK) in America.

 

"A lot of things have changed since then and we expect the new Yash Raj film to be one of the biggest hits of the decade," Jawahar Sharma who runs the American office for Yash Raj had told rediff.com a few days before the films release. "For some reason the film (Dhoom) did not catch on in America or in the UK, but slowly when people started hearing what a big hit it had become in India, they started watching it on video. And soon people were asking if there would be a sequel."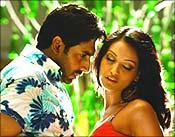 The movie's star cast -- Hrithik Roshan, Abhishek Bachchan [
Images
], Aishwarya Rai [
Images
] and Bipasha Basu [
Images
] -- would add to its appeal, Sharma had said. The film was No 17 on the American box-office, currently topped by the kids movie' sensation
Happy Feet [Images]
which danced to $38 million in 3800 theaters, taking its 10-day total to $99 million. It was followed by the new James Bond [
Images
] film
Casino Royale
which lifted some $30 million in 3400 theaters, taking its 10-day total to $94 million.
The three day opening of Dhoom 2 is even more impressive than that of Don's $860,000. For the latter was released in 103 theaters in America. It is quite possible the theater count for Dhoom 2 could go up next week, as many theaters reported a full-house for many shows over the weekend.
Most Hindi films lose about 55% of its box-office altitude in the second week. It will be interesting to watch what kind of attrition
Dhoom 2
will have. If it drops 30 to 35 percent of its first week's haul, it has a very good chance of becoming the second most successful film of the year, following the $3.1 million gross of
Kabhi Alvida Naa Kehna [Images]
.
As for Aishwarya, whose
Umrao Jaan [Images]
grossed about $1 million in North America despite being an instant flop in India, it looks like
The Times
really loves her. But her co-star also came for praise from
The Times
.
'Dhoom 2 may represent the newfangled Bollywood,' the review said, 'but old-fashioned star power is what animates and elevates it about its occasional narrative flaws,' adding, 'When Mr Roshan's surprisingly green eyes meet Ms Rai's surprisingly blue  ones, it's a delirious moment of unself-conscious, slightly cartoonish movie magic.'