November 27, 2006 13:06 IST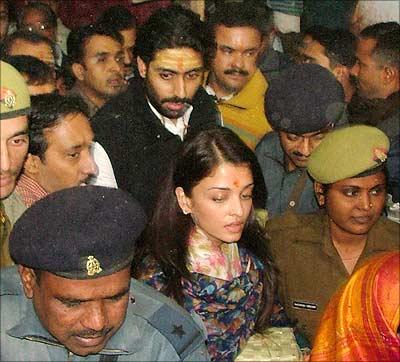 What were Abhishek Bachchan [Images] and Aishwarya Rai [Images] up to in Varanasi?
The Dhoom: 2 pair performed a series of pujas at the holy city's famous Kashi Vishwanath temple and the Sankat Mochan temple during the early hours of Monday, November 27.
Video: Watch Ash, Abhishek in Varanasi
Abhishek and Aishwarya virtually kept the otherwise serene temple city buzzing even at the dead of the night when they went from one temple to another to perform different sets of prayers.
Heavy police deployment and a tight security ring prevented any intruders, particularly the media. However, an insider who witnessed the entire rituals at the heavily guarded Kashi Vishwanath Temple said, "The rituals began around 3 am and continued until 4:30 am."
"First, the entire family performed the mangala aarti, that was followed by the rudrabhishek puja, which is usually carried out by married couples only," he said, on condition of anonymity.
Family priest Chandramouli Upadhyaya, the first to call on the Bachchan family at the Taj Ganges [Images] hotel shortly after their arrival late Sunday night, told mediapersons, "The family was here to perform certain prayers on the [99th] birth anniversary of Amitabh's father, famous poet Harivansh Rai Bachchan."
However, when reporters asked what Aishwarya had to do with such a closed family affair, he claimed ignorance.
Bollywood's first family arrived in Varanasi by a chartered flight around at 10:20 pm on Sunday night. They were huddled into awaiting vehicles and driven into the Taj from the rear gate, to avoid inquisitive mediapersons and cameramen.
Shortly thereafter, they were visited by Upadhyaya. At around 2:30 am, senior district officials escorted the family to the Kashi Vishwanath temple, where Pandit Sitaram Shastri first carried out the exclusive mangala aarti for them, to be followed by the rudrabhishek puja.
Besides Amitabh Bachchan [Images], his wife Jaya, daughter Shweta and brother Ajitabh were among the key persons to participate in the rituals. Samajwadi Party General Secretary Amar Singh arrived with the entourage and stood alongside the family at each ceremony.
At around 4:30 am, they left for the Sankat Mochan temple where they attended the nearly hour-long morning aarti.
All along, they remained surrounded by an extremely tight security ring of not only the local police but also the Sahara India group, who appeared to be virtually hosting the entire visit.
Finally they returned to their hotel around 6 am. While Abhishek and Aishwarya were scheduled to leave for Agra [Images], Amitabh, Jaya and others were flying back to Mumbai at 1 pm, a local official said.
Text: Sharat Pradhan in Lucknow | Photograph: Getty Images