Advertisement
November 24, 2006 20:04 IST


An explosive, adrenaline-pumping Dhoom 2 [Images] is what I expected, but what I got was more: A complete roller-coaster ride which left me completely enthralled and exhausted by the first half.

Don't miss: The alternate Dhoom 2 review

Before I get to the questions you want answered, let me outline the story.

Dhoom 2 opens to a robbery taking place in a train passing through a desert in Namibia, supposedly the world's oldest solitary railway line. And a breathtaking robbery it is, with Mr A aka Aryan (Hrithik Roshan [Images]) parachuting down on the train, and getting away in a captivating sequence.

The Dhoom 2 title song follows, with the title and opening credits rolling on screen, barely noticable since it's hard to keep your eye off Hrithik who promises a heart-pumping Dhoom 2, going by the lyrics.

I could hear the women in the cinema hall gasping everytime Hrithik came on screen, and I must admit -- I too was struck spellbound seeing him on screen. This is his film.

It's a film of entrances all right. In comes Ali (Uday Chopra [Images]) on his suzuki Bandit 1200cc bike which we also saw in Dhoom. He falters while delivering drugs to some dealers, making them suspect he's a policeman. And he turns out to be one.

He is now ACP Jai Dixit's (Abhishek Bachchan [Images]) right-hand man, and AB Jr too makes a dazzling entry on time to save his pal's life.

Jai's wife Sweety (Rimi Sen [Images]) is pregnant and so is not seen much. She also gets to speak Bengali, but I will add that her Hindi delivery has improved compared to the first Dhoom.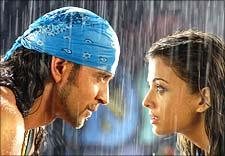 Another entry: ACP Shonali Bose (Bipasha Basu [Images]) stuns everyone -- the audience in the hall as well as those in the scene as she walks past the police headquarters after spending a few rounds in the shooting range. She is told by a senior officer to wait in an adjoining room.
Now Ali enters, and Shonali who is fidgeting with handcuffs accidentally locks herself. No sooner than Ali sees her his familiar routine begins, daydreaming about being married to her and having two kids. In walks Jai Dixit, Shonali's college-mate.
Shonali has been tracking some amazing thefts and is an expert on Mr A. she briefs Dixit and Co about the type of burglaries that have taken place and adds that no one has so far seen Mr A, nor do they know how he operates. Smart cop Jai Dixit decodes A's pattern of heists and guesstimates that the next heist will be in Mumbai, and on a particular date.
Aryan, a hi-tech international thief and master of disguises, is now in Mumbai. And even though a trap has been set to catch him, he succeeds in yet another stunning heist, which leaves the police, especially Jai Dixit and Shonali Bose, shamefaced.  Shonali decides to go back as she has been unsuccessful in catching the thief, but things don't end there. Aryan dares them on television about carrying out another heist in Rajasthan, and Shonali is back in the team.
Once again Mr A is succeeds in his heist, in the process meeting Sunehri (Aishwarya Rai [Images]), another smart thief.
Sunehri's entrance makes the audience want more, and more is what they get as the Crazy kiya re song comes on and ends in a manner that leaves you gaping.
Mr A and Sunehri go to Brazil [Images] for their next heist. Not far behind them are Jai Dixit and Ali, with a local help who is none other than Shonali's twin-sister Monali (Bipasha Basu's double role)! Her entrance shows the extensive physical training that she must have undergone to get that toned look.
There are twists and turns in the second half, some expected, some not. Sure, there are faults when you stop to think rationally. But that does not stop you from being dazzled by the film. Men, women, kids, no matter who, the high-on-octane action sequences and racy chases will leave everyone panting.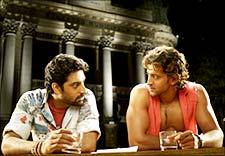 The subtly done special effects are another draw, making you want to take the roller-coaster once more.
OK, so let me now answer the questions uppermost on everyone's mind.
Dhoom 1 or Dhoom 2? Dhoom 2, obviously.
Ash or Bips? Errr, tough to call, honestly. Both are awesome.
This is a Hrithik film, he simply takes over the film, effortlessly overshadowing Abhishek.
The soundtrack didn't open to rave reviews, but after seeing the songs on screen, they come alive, and are bound to become a hit.
Don't miss: The alternate Dhoom 2 review
My verdict: Go see Dhoom 2 now, and get rocked!
Rediff Rating: