Advertisement
November 22, 2006 20:01 IST


Friday, November 24, sees the release of his Rendu, and Madhavan [Images] had a blast making the film.

In the conclusion to his conversation with Shobha Warrier, the actor talks about working with Mani Ratnam, and his Rang De Basanti [Images] experience.

Don't miss: Part I: I never sign a film for acceptance 

You are acting in different language films. Do you enjoy this?

I am not doing films in different languages, just Hindi and Tamil.

What about the Malayalam-English film you did for Rajiv Anchal?

That didn't come out the way it was planned. I am not happy with the product at all.

Is this the most exciting period of your career? You are working with Mani Ratnam, and Rituparno Ghosh. And, Rang De Basanti is a huge hit.

Yes. Any other person would have looked at Rang De Basanti as a miniscule role but from the day I read the script, I knew it would be a rocking film. I wanted to be a part of it. I remember meeting the media before the release and the entire media was sceptical about the film. Many asked me, 'You are a star in Tamil cinema so why are you doing a small role in an Aamir Khan [Images] film?' And the whole thing changed once the film released. It's nice to know your convictions are right.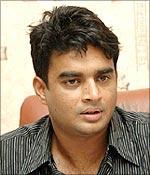 What is it that excited you about the film?
There was a wild individuality about the film. It was not adhering to any commercial norms of Hindi cinema as of that day -- It was a Rs 25 crore film where Aamir Khan was not playing the main lead; it had a flop director; and it had two south Indian guys. For me, the whole set-up was exciting. With Aamir and UTV endorsing it, I knew there was something about the film.
Then, there was this rebellious attitude and a latent patriotism, which everybody has in real life.
While Rang De Basanti showed a violent side of youth, Lage Raho Munnabhai [Images] made people realise the value of non-violence. As a person, which would you follow, the violence of Rang De Basanti or the gandhigiri of Munnabhai?
I completely endorse the gandhigiri of Munnabhai. I believe there is nothing in the world that cannot be achieved by dialogue. Unfortunately, the easier route is violence.
But if you ask me which film I would like to be sent to the Oscars, I would say most certainly Rang De Basanti. It has violence in it, but doesn't advocate violence.
Hindi filmmakers have now understood the importance of marketing, unlike the Tamil film industry. Do you feel films need to be marketed like a product?
You are absolutely correct. Almost 40% of the budget of a Hindi film is meant for publicity, but we still haven't reached that in Tamil. I cannot understand the reason. Only (leading Tamil producer) Oscar Ravichandran does huge amount of publicity. But in Hindi, even a Shah Rukh Khan [Images] goes everywhere to talk to the media about Don to make it happen.
I can only speak for myself. I don't know why it is not happening here. When I make a film, I will make sure it happens.
Will you be making films?
No. I am not in a position to be a director or producer. If I have my way, I will see to it that the science of public relations, which has not yet trickled down to the south, reaches here.
Rendu isn't exactly your type of film...
It is a comedy, a fun film. I was quite bored after doing all this research on corporatisation of films. It was then that Sundar C told me, 'Come and do a fun film with me. Don't ask me the script or anything. Just trust me and do the film.' He said, 'give me 50 days'. And I had a ball in those 50 days.
Actually it was Abhishek Bachchan [Images] who told me to go and enjoy all films. He had learnt it from his father. I took his advice to heart and enjoyed Rendu. You can't be doing Kannathil Muthamittal or Anbe Sivam everyday.
You were working on Guru while you were doing Rendu, right?
For Guru, I had to lose a lot of weight, and I had lost 8 kilos. But in Rendu, I was playing two characters. One had light eyes and was visually far heavier than the other guy. I used to work out in the morning and look bulky to do the scenes of the plump guy first. After a light lunch, I used to go for a 2km jog, come back and do the thin guy's scenes. I was doing this everyday when we were doing the special effects. It was fun.
Of course, Guru had a different sensibility. Sitting there and looking at Mani and working in his film gave me the high I needed. Rendu gave me the fun I needed. Those were quite happy times.
Is working with Mani Ratnam always special for you?
It is very, very frightening.
I thought it would change after the first film. Because we are golf course buddies and on back-slapping terms. But when we are on the sets, I can't bring myself to call him Mani: it is always Mani sir, said with reverence. And it is frightening.
During every film, I thought I would get over the fear after the next one, but it's getting even tougher. Because we know each other so well, he doesn't want what he sees in real life. He pushes me to give something different. He knows the kind of environment that I perform best in. Without me knowing, he makes sure that he creates that atmosphere for me.
How different was working with him in Alai Paayuthe and now in Guru?
I was trying to deliver exactly what Mani sir wanted in Alai Paayuthe. There was no input from me. I was trying to be real, what he wanted me to be. In Kannathil Muthamittal I had to act like a Tamil writer, which I am not in real life. I had to play a father to three kids. I took Mani sir as the role model; I observed how he behaved with his son. But in Aayutha Ezhuthu, I could not get the Tamil cheri dialect to perfection; I screwed that up. But the look worked, so it was accepted.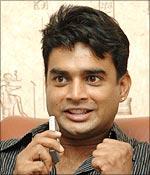 In Guru he wanted me to lose weight and look 22 years old. He told me, 'If anybody can do it, you can because you have a face for it.' So, I took one moth off and lost a huge amount of weight and put on some colour. I lost weight without starving. In fact, I was lighter than the Alai Paayuthe days.
In Guru I play a reporter who believes good should be done to people. He likes it when somebody does something good for the people and society. But he believes it should be done within the realms of law. He opposes anyone who breaks the law. So, he stands to oppose Gurukant Desai when he breaks laws. This reporter knows the power of words and the media.
Is the film based on Dhirubhai Ambani's life?
I don't think so. But yes, Gurukant Desai is an industrialist who wants to change the nation.
So what's the equation? Are Tamil films your bread and Hindi films your butter?
No, Tamil films are my bread and butter, and Hindi films are the cream!
Don't miss: Part I: I never sign a film for acceptance
Photographs: Sreeram Selvaraj