| | |
| --- | --- |
| Madhavan | |
| | |
| | |
| | |
| | |
| | |
| | |
Advertisement
November 21, 2006 19:34 IST
Last Updated: November 22, 2006 20:04 IST


His latest Tamil film, Rendu, is releasing on November 24. Madhavan [Images] is getting set for a major career high with three films set to release.

In the first part of a conversation with Shobha Warrier, the actor discusses his career plans, and his motives behind signing a film. Excerpts: 

Your last film Thampi was released quite some time back. What is the reason behind such a long gap? Didn't you get any interesting script?

Thampi was released early this year. I had only three releases in the last three years; just one film a year. So, that's not unusual.

Was it a conscious decision to have only so few releases?

Actually, it was in preparation to what's happening now. I see what is happening in Hindi cinema. They have become extremely disciplined there. But the Telugu and Tamil industries put together, are bigger than the Hindi film industry. Now, I plan it in such a way that none of my films is over budgeted and lose any money.

And my so-called 'flops' like Anbe Sivam, Kannathil Muthamittal, Nala Damayanthi etc were good films.

Does it affect you as an actor when good films of yours do not succeed at the box office? Do you feel they would have fared better had they been released today now, with the tastes of the movie-going public changing with the arrival of multiplexes?

You yourself said they were good films and they would have succeeded if they were released today. That is the biggest compliment an actor can ask for. The only person who is going to tell me they are flops is the distributor who is going to buy my next film, which is fair enough. But that is the risk the producer takes and I am not the producer, and I am not telling anyone to make a film with me for Rs 7 crores or Rs 11 crores. Thank God, quite a few of them are making films with me.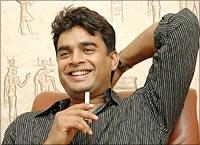 What is the most important thing you look for in a film? The script?
Of course. I wish I had an audience that instantly came to the theatres to see my films. My audience is (made up of) the young people, college students and ladies to a great extent, and they come to watch Maddy in a romantic state. If I do a film like Run, the guys also come to watch it. But it's very difficult to come across a sensible script with both action and romance.
In Thampi, you play a villager and there's a lot of action, but many say you look too sophisticated to be a villager.
Only the non-Tamil speaking, non-Tamil understanding media wrote that. Thampi completed more than 100 days. That was the only film of mine that ran in the B and C centres. It ran in the A centres also for 100 days. That was because it had the right ingredients. It worked because the dialogues, the delivery and the loud acting appealed to the B and C centres. At the same time, it had some sensibility also. My father liked the movie. He said, 'it's not a Kannathil Muthamittal. It's not your kind of a film, but it's a good film.' My overseas market was very disappointed with the film.
Was it because you wanted to penetrate the B and C Centres that you accepted the film?
Not at all. I know I am not a B and C centre hero, and I don't want to penetrate those centres.
As an actor, how do you compare a film like Kannathil Muthamittal with Thampi?
All I can say is that everybody wants to make a film like Kannathil Muthamittal but even a Mani Ratnam would prefer a box office outcome like Thampi. Nobody likes to make a film that will be a flop. Acceptance from the audience is most important for all filmmakers.
You may call Thampi a loud film and write bad things about it, but the balance sheet lists it as one of Madhavan's superhits which has finally reached the B and C centres.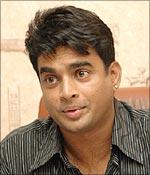 So, would you accept another film like Thampi so that you will be accepted in the B and C centres?
Now that you have asked the question, I must answer very clearly. My quest in signing a film is never for acceptance. That is because the audience has accepted me as who I am. If I try to play to them, I will cease to be the person that I am. This is exactly what Aamir Khan [Images] is doing. It is very easy for me to do a film like Rendu but if I continue to do that, I wouldn't be where I am today.
What kind of films do you enjoy watching?
I enjoy watching sensible films, films that make the audience a part of them. In Tamil, one film that I enjoyed watching recently was Kathal. I liked everything about Pulikesi. I also liked Arindum Ariyamalaum. These directors are very, very sensible. Kathal is the kind of film I would like to make. Pokiri in Telugu is a hardcore masala film but sensible.
I am not a great dancer, and I cannot fight to save my life but there is enough anger in me to do action. If action was not my forte, Run wouldn't have been a hit. I can act in any genre as long as the script is sensible, be it comedy, be it action, be it romance.
Don't miss: Part II of the Madhavan interview, where he discusses Rang De Basanti [Images] and Guru.
Photographs: Sreeram Selvaraj