Home > Movies > First Look

Deepak Tijori enters Bigg Boss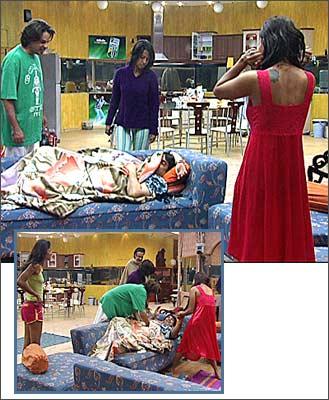 Deepak Tijori has replaced Salil Ankola in Sony Entertainment Television's reality show,
Bigg Boss.
The actor-director made an entry at the Bigg Boss home (in Karjat, on the outskirts of Mumbai) at 4:30 am this morning and will be seen in tonight's episode.
When Tijori entered the house, no one noticed since they were sleeping. Tijori was discovered sleeping on the couch by his long-time buddy Rahul Roy -- who also happened to be his co-star in Aashiqui. Soon, the other participants awoke and welcomed the new entrant.


After Salil Ankola got entangled in a legal problem for not abiding by his contract with Balaji (which prohibited him from participating in any show outside the production house), he was asked to leave Sony's reality show, Bigg Boss.
Salil had entered into a contract with Balaji when he worked in their show, Karam Apna Apna.
Catch Bigg Boss at 10 pm between Mondays and Thurdays, and at 9 pm on Fridays on Sony Entertainment Channel.

Text: Srabanti Chakrabarti


What do you think about the story?








Read what others have to say:





Number of User Comments: 7








Sub: Who's gonna win Big Boss?

Rahul roy is gonna walk out of the big boss\'s house last,ofcourse with the prize money...I will bet on him. He comes across as a ...


Posted by Ravi









Sub: Cash should be out.........

Of course, I agree, Kash should be voted out of house to provide relieve to other members specially carol, deepak , and rupali.....


Posted by Vidhi Gupta









Sub: Big Boss

This is not fare b'coz Deepak Tijori knows that there is one big boss's own fellow ..... Praveen


Posted by Parveen Sharma









Sub: Balaji's legal action Salil Ankola

Its a shame that reputed organisation like Balaji would resort to such an action against Salil Ankola for participating in Big Boss. They are killing ...


Posted by M.P.S. Ahuja









Sub: Kashmira Should Definately Leave!!!

Kashmira is playing dirty politics and spoiling the charm of the show. If She is nominated, she is bound to be kicked out of the ...


Posted by M R Ansari






Disclaimer