| | |
| --- | --- |
| Shahid Kapoor | |
| | |
| | |
| | |
| | |
| | |
| | |
Advertisement
November 10, 2006 15:39 IST


He's trying to step into Salman Khan's [Images] shoes. Shahid Kapoor [Images] plays Prem, the classic Sooraj Barjatya leading man in Vivah [Images]. Here are the actor's thoughts:

Love & Marriage:

Arranged marriage is an alien concept to me. I have never met a girl for a rishta, but it's not something I've never seen around me. Essentially, whether arranged or love marriage, it's about companionship, being there for each other unconditionally, and about the promise you make to your partner that through good or bad, you will stand by each other.

In my opinion, a good film always works. I don't think the concept of arranged marriage is outdated. If you see the statistics, a large part of our country still gets into an arranged marriage. It doesn't happen in only small towns, but in cities as well. The film is about the courtship period all of us go through before marriage, whether love or arranged. There is a certain beauty about the period. It's about those unforgettable moments.

The film says something very poignant: no marriage is perfect. There are going to be problems, but when they do come it is up to the partners to hold each other's hand and walk through them rather than separate. The film conveys a socially relevant message told in contemporary ways which youngsters will be able to connect with.

Playing Prem:

Vivah depicts the courtship period between two people who are complete strangers. There have been so many films based on two people falling in love. But while the majority of Indians still opt for an arranged marriage, not many films have been made on the subject. When I heard the script, I loved the sequences, the moments, the way in which the relationship develops. I saw all that in a different light.

My character, Prem, is from a rich business family in Delhi, who has just returned home after finishing studies abroad. He's a sensitive, well-behaved family guy who hasn't yet decided which career to choose, and what he wants to do in life. I think every youngster goes through this stage; I did, a few years back. But as the film progresses, the boy matures from a boy to a man and takes up the responsibility of being a husband. So there is a certain maturity graph the character goes through.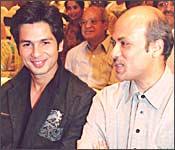 Sooraj Barjatya:
I have been a fan of Sooraj Barjatya, and have seen all his films since my childhood. So I was happy when I got the film. Soorajji is a certain kind of filmmaker and represents a certain sensibility. Therefore, as an actor it was very important to understand where he is coming from and why he is making Prem the way he is.
My focus was to understand the feelings and thought processes of my character, which is why we spent a lot of time together before we started shooting for the film. There is so much goodness in him as a person, and his simplicity is genuine. This reflects in his films, hence the audience can connect. This film will always hold a special place in my heart. 
Dancing:
People ask me why I chose Vivah even though there is no dancing in this film. My character in the film does not need to dance, and I can't force a director to include dances just because people think I am a good dancer. The focus should be on getting the character right rather than do things that we think the public wants to see us doing.  
Priorities:
I don't look at films as multistarrers or single hero films. The important thing for me creatively, as an artist, is to be a part of good stories and get good characters to play. Even if you see it from a 'star' point of view, the biggest stars in the country do films with other heroes. The focus should be on trying to be a part of good films, working with good directors and improving oneself as an actor. That's how I look at things.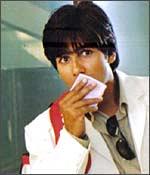 The soundtrack:
The music is not the kind of music one would hear in discotheques. It's not the thumping music that people are used to. It is very emotional and melodious; very Indian and very traditional. I think that's where the appeal of the music lies, because it stands out from the others. It goes with the flavour of the film.
Constant co-star Amrita Rao:
Amrita and I are lucky that our first film was appreciated. People liked our work in Ishq Vishk. When people like a couple, there is a positive outlook towards the on-screen pair. This is our second love story together, and fourth film together. Amrita and I have both grown since then.
As told to Priyanka Jain