Home > Movies > Interviews

The Rediff Interview / Shreyas Talpade

'I play a serious role in this comedy'

November 09, 2006



Just two films old, Shreyas Talpade is already being considered among the most promising current actors. He didn't speak a word in Nagesh Kukunoor's Iqbal, but made up for it by talking up a storm in Dor.

Now, with Apna Sapna Money Money set to release on Friday, the down-to-earth actor told Priyanka Jain about a Bollywood lifestyle, his image and co-star Ritesh Deshmukh. Excerpts:

Post-Dor, has the pressure to be in the rat race or be seen at the right places built up?

I am not a party animal. I attend parties sometimes for my friends. I don't want to pretend to be someone else. I can't act or put on a mask 24-7, when the camera is not rolling. I am comfortable wearing normal clothes to press conferences. I don't need to wear a jacket just for style, especially when the weather is hot. I think more about my work than how to portray myself. In a way it's a drawback, but I feel it's better to let my acting do the talking.

You were doing theatre for quite a while before Iqbal happened. Was it difficult breaking into Hindi films?

Success with Iqbal and Dor has come now. I have faced failure too. I have seen times without money, without work. Now that I have both, I'm able to do the kind of work I want to do. When I'm doing a role, I don't think whether it will be liked by people or not, and how much work it would help me get. I am signing films where I like the role and the script. 
Has Dor helped change your image?
Post Iqbal, I was perceived as a boyish but promising actor. However, people weren't sure if I would fit in a commercial set up. Then came Dor, which got me rave reviews. The film showcases my complete profile -- my character Behroopiya portrayed emotion, drama, comedy, dance and a very light dose of romance. If 10% people appreciated my performance after Iqbal, now 40% or maybe 50% liked it. People are getting more comfortable about considering me for various kinds of roles and that's a great high for any actor. Nagesh said (the two films were) a transformation of a boy to a man.
Tell us about your new film Apna Sapna Money Money.
I played a comic character in a serious film like Dor and now I am slated to portray a serious role in the upcoming comic flick Apna Sapna Money Money.
In Apna Sapna, I am very much like your boy next door. Arjun Fernandes owns and works in a small garage with his friends. He is very possessive about his friends, neighbours and his dogs. He wants to change their fortunes, make their life better. And at the same time, he falls in love with this girl (Riya Sen) next door and wants to marry her. Comedy happens with my character, but I am not doing any comedy in the film. The situations Arjun lands up in the film are comical.
Doesn't Ritesh Deshmukh have the author-backed role in this film? He has several different get-ups...
Though mine may not be an author backed role, Arjun has his own moments portraying love, friendship, sensitivity et al.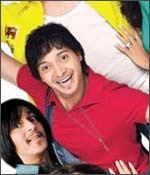 This is your first multi-starrer. How were your co-stars?
Ritiesh has done more films than me and was in a position where if he wanted he could have done one-upmanship, but he didn't do that. He never tried to improvise during our scenes together, or eat into my scenes. His professional attitude helped us bond together right on day one.
Even though I was working with the team for the first time, director Sangeeth Sivan made me feel very comfortable, Koena Mitra was very sincere and Riya Sen was a sweetheart. Riya would do her masti and I think she was tired and bored with me because I would do a lot of rehearsals. 
Are you afraid of being typecast in the comedy genre?
I am comfortable with comedy and I like doing it. Also, the audience likes light entertainment. Since comedies are working, it is natural that producers and directors will make comedies. An actor can decide whether he wants to be a part of it or not.
I will try to maintain a balance and do serious films, action films, offbeat films, art films, romances etc. To grow and keep myself fresh as an actor, I need to work on different subjects. Fortunately, I am being offered different subjects. I just have to select the best among them. Whether I will be successful in doing that or not, we will have to wait and watch.