Home > Movies > Reviews

Ritesh rescues Apna Sapna Money Money

Sukanya Verma | November 10, 2006 19:57 IST



The makers of Apna Sapna Money Money expect you to burst into laughter every time this happens:

Colorful lingerie pops out during drug raids and passenger suitcases. Two goons misinterpret A helping B try a pair of sandals as something sexual.

A wannabe don with a Sarkar hangover tries to do a Big B. A bunch of Nepali gang lords, dressed as a cross between a pathan and a dacoit, speak in Nepali. A Goan gal speaks in the 'humko humara mummy ne bola' language peculiar to Bollywood. A bumbling police inspector plucks out food from his greasy teeth.

It gets worse: A curious camera reveals a bored buffalo's tense butt in full glory. And then, a live telecast of his fresh potty deliveries. But that's not all: Later, a guy tries to find a lost address in the dry feces.

Suspension of disbelief is a minor formality if you plan to sit through director Sangeeth Sivan's 15 reels of unlimited corn. With a dense storyline and contrived treatment, Apna Sapna Money Money is a crazy ride to nowhere.

Gimmicks like drag queen get-ups, slapstick buffoonery, comedy of confusion and sex-related jokes are passe. Money Money feels like a toast to everything out-of-date.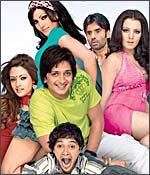 For starters, it's swarming with characters. You'll see more faces in this movie than on a railway platform. To cut a crowded story short, there is Carlos (a thoroughly under-utilised Jackie Shroff), a bankrupt underworld chieftain from Bangkok, anticipating the arrival of his sexy girl Friday, Sania (Celina Jaitley) with his precious bag of diamonds. Inspector Namane (Suniel Shetty) is on her trail but gets tricked each and every time.

Back in Mumbai, you have a forbidden romance brewing between car mechanic Arjun (Shreyas Talpade) and Pandit Shastri's (Anupam Kher, in an extension of his role in Kuch Kuch Hota Hai) holier-than-thou daughter, Shivani (Riya Sen). To give his love story a happy ending, Arjun seeks the assistance of his cousin, Kishen (Ritesh Deshmukh) a colourful rogue with a knack for trouble (a Nepali gang headed by Chunky Pandey is after his blood) and a penchant for interesting getups.

During one such avatar, Kishen pretends to be Arjun's aunty, Sania and finds an instant lovestruck admirer in Shastri. Kishen, the male version, hits it off with the feisty Julie (Koena Mitra). Meanwhile, he's unknowingly bearing the bag containing diamonds. The name Sania only adds to the whole confusion.

The caper rests hugely on Ritesh Deshmukh's shoulders to rake in the laughs. And the actor doesn't let anyone down. From being a loopy-eyed third hero in Masti to playing lead hero -- and heroine, if you please -- here, the actor just keeps growing in confidence and talent. He is rollicking in his makeovers, especially that of a woman. And what a woman he is. Not only does he look pretty batting his fake eyelids and pouting those perfectly painted lips, he is enjoyably flippant.

Other actors just bide their time and fill the scenes whilst Ritesh takes complete charge. He evokes chuckles time and again despite constant flaws in the screenplay and a daft lack of wit.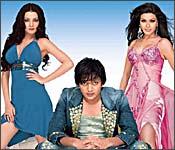 His co-star Shreyas Talpade is confined to playing the conventional boy-next-door, and doesn't get to do any fun bits. But the Iqbal star is earnest enough for the job.

As can be expected, Celina, Koena and Riya merely ooze oomph and add glamour to the proceedings.

Chunky Pandey is amusing and maintains a funny accent all throughout. Ditto for Sunil Shetty, quite a comic here. But Rajpal Yadav takes the cake. The man has you in splits with his hilarious take on Big B in Sarkar. Wonder what Ram Gopal Varma has to say about this.

Pritam's compositions are staid and lack the rhythm required to complement a comedy. Still, The rocking Jai jai money is an exception to the point and is used effectively in the backdrop.

Basically, Apna Sapna Money Money is a run-of-the-mill flick, but with a first-rate performance from Ritesh Deshmukh.

Rediff Rating:

Want to see this movie? Check out Rediff Movie Tickets!



What do you think about the story?








Read what others have to say:





Number of User Comments: 30








Sub: better

good movie like kya cool hai ham


Posted by siddu









Sub: best comedy

well, here is a movie to break our boring daily routine. u have enjoyed jhankaar, and the angrez. now ASMM is a good promise!


Posted by kapil shah









Sub: Money money

Hi, this is smitha here. I think the movie should have been "A" certified due to abusive language used by Rajpal Yadav and chunkey pandey ...


Posted by Smitha









Sub: Worst movie I ever seen!!

ASMM is a worst movie. Please dont see it .


Posted by Raja









Sub: Apna Waste Money Money

Just Stupid. Plz dont go to this movie. what is censor board doing? if u go take some saridon with u. Its really apna waste ...


Posted by sandeep






Disclaimer