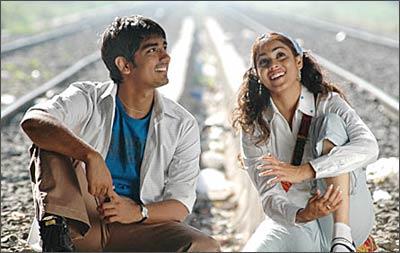 Starring Siddharth, Genelia and Prakashraj, Bommarillu is rocking the box office. It's heading towards the 100-day mark (November 16), with screenings still drawing crowds. The film's refreshing look with subtle emotions and good storyline is a combination rarely seen in Telugu cinema. Producer Dil Raju is justifiably thrilled, and revealed that they are planning celebrations in Australia.
Director Bhaskar is simply overwhelmed. "I'm really happy that the film is going strong enough to touch 100 days and the audience has loved it. It's not just an entertainer but is a slice of life. People are talking about it, are able to identify with the (father-son) relationship," said Bhaskar. "I was happy to see the family audience: the young and the old sitting together to watch the film at the theatres. Most people could relate to the relationship aspect, which was dealt with in a positive way. It was all about the gap between a good father and good son."
Naturally,Bhaskar has been flooded with offers but he is only committed to one film now, and he'll be working with Dil Raju again. "I am working on the script so it's too early to talk about it," he says. If this project is anything to go by, their next collaboration should definitely be worth waiting for.
Text: Radhika Rajamani