| | |
| --- | --- |
| Director S S Rajamouli | |
| | |
| | |
| | |
| | |
| | |
| | |
Advertisement
November 07, 2006 20:52 IST


Director S S Rajamouli enjoys incredible consistency at the box office. Audiences can't help but lap up his violent, hero-oriented films.

As his Vikramarkudu celebrated 100 days, Radhika Rajamani pinned down the director for an interview. Excerpts:

What is the secret of your consistent success?

I can't analyse the secret of success. In my style of working, I stick to the basics and make stories revolving around the hero.

Vikramarkudu has run for more than 100 days. How did you get this story idea?

Since I make stories (based) around the hero, I chose Ravi Teja [Images] this time. My dad (writer Vijayendra Prasad) has a library of stories. Since I worked with him as an assistant, I chose to develop one of the stories he had. Once the hero is chosen, we flesh out the screenplay and work on the project.

How did you decide on Ravi Teja?

People like to see Ravi Teja as a vibrant, massy character. We needed to do something more. So I gave him the extra flavour of the cop character and high emotions. And Ravi did a good job.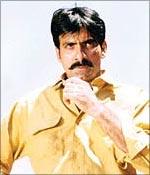 You have emerged as a director catering to the masses. Was that a conscious decision? Do you like that tag?
If we make films only for the frontbenchers, we can't make money. Hence, we have to make it for a majority audience. As my films are mass films, I deal with emotions in raw form -- they are not subtle. I don't mind being branded. That does not mean I like only those kinds of films. I like all kinds of films; Bommarillu is a favourite film. But I can't make that kind of film.
Why can't you do that?
In Bommarillu, the emotions are subtle. In my films, they are loud.
Do you want to explore other genres of cinema?
I am trying to experiment within the mass kind of films I make. I am trying to move out a little bit. One has to do it step by step, as one has to fulfill the audience's taste. I am interested in murder mysteries and thrillers. I see myself making more multi-starrers, more fantasy, and fictional films set in period times.
Since your father scripts most of your films, how does the collaboration work?
At the scripting stage, about 10 of us work as a team. We do have our share of arguments and fights, but it's ultimately my decision. The director wins.
Why are your films so violent?
Violence is to do with emotions. My style of filmmaking is loud. Loud anger leads to violent reactions. That is blown up, so there's violence. It's not because it's cinematic.
What are your future projects? Are you doing another film with NTR Junior?
Yes, I am working with NTR for the third time in Yamadonga. Our earlier films have been successful. NTR has faith in me as a director and I have confidence in him as an actor. So the combination arouses certain expectations, which led me to a dilemma.
I made a conscious decision not to make another action film like Simhadri. I wanted to make an entertainer, more of a comedy. I toyed with various ideas on what kind of an entertainer I wanted to make. I took the idea from the film Yamagola where the hero goes to hell and meets Yama. It's not a remake, though. Mohan Babu plays Yama, and the heroine has not been finalised. The film is still in its scripting stage.
There are other projects lined up. I have to direct a film for RK Film Associates; Raghavendra Rao is my godfather. I have been asked to direct (Chiranjeevi's [Images] son) Ram Charan Teja's second film, and one with Dhanaiah.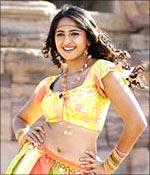 You worked very hard to get to the top slot. What has kept you going?
I have worked as assistant writer, editor, director. Luckily, I did not face any downs. My career-graph has always gone up. I never planned life; I took it as it came. When opportunities came my way, I worked. For me, the process of making a film is more exciting than success.
You have worked with relatively new actors (NTR, Nitin) and catapulted them to success...
Success or failure of actors doesn't bother me. How they fit into my script is important. My scripts demand a lead actor and I know whoever I choose can perform well. Of course, their availability is important.
How important are story and technique to you?
Both are equally important. One can't just take a script and insert a shot even if it's good. The story fulfills the need of a good technique. Both go hand in hand.
Would you like to improve anything in your films?
I should get better in the script aspect. In a hero-oriented script, the structure becomes weak. The hero is most important and everything is woven around him. I should make the heroine's role more substantial.
Malayalam and Tamil filmmakers experiment with different story ideas. Do you think the Telugu film industry is caught in the time warp of commercial cinema?
I don't watch Malayalam films, so I cannot comment. Yes, there is experimentation in Tamil cinema. For the Telugu people, cinema is the major entertainment, and so we have to cater to their taste. Experimentation will happen when Telugu audiences start looking at alternative entertainment. With the multiplex culture, there is scope for experimentation.
What kind of films do you like watching?
I like Braveheart and have watched it many times. Everything about the film is inspiring. I like films by James Cameron, Steven Spielberg [Images] and John Woo. In Telugu cinema, KV Reddy films are my favourites. I can't stand a slow film.
What is your advice to aspiring filmmakers?
Work hard, work smart. Have the right kind of technicians for the script, and be in total command. Have an alternative plan. Be practical. Live and let live.