November 04, 2006 18:47 IST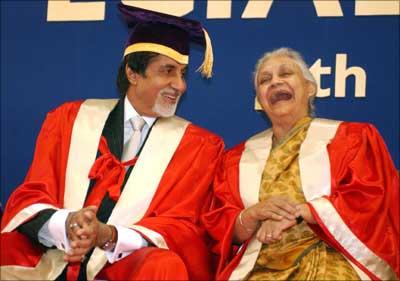 An emotional Amitabh Bachchan [Images] thanked the Delhi University for giving him the best years of his life amidst applause from hundreds of people when this famous alumnus of Delhi University on Saturday was honoured with a doctorate.
Bachchan was a student of BSc general course in the university between 1959-62.
He studied in Delhi's Kirori Mal College and had shown keen interest in acting even then. He was lead actor in the theatre group.
Bachchan is the only film personality in the history of the university to receive such an honour.
Among others, Delhi Chief Minister Sheila Dikshit, cartoonist R K Laxman and scientist C N R. Rao were also honoured on this occasion.
Bachchan has earlier been awarded with honorary doctorates by Britain's De Montford University and French government.
Image: Amitabh Bachchan (L ) shares a light moment with Delhi Chief Minister Sheila Dikshit after they were conferred with Honorary Doctorates of Letters (D Litt)  by Delhi University at a ceremony in New Delhi.
Photograph: Manpreet Ramona/AFP/Getty Images