Home > Movies > Reviews

As Good as Fellas can get

Raja Sen | November 03, 2006 17:01 IST



Breathtaking. And, like Cindy Crawford's face, it's all about the mole.

The Departed marks Martin Scorsese's return to crime drama, and emphatically illustrates just how glorious a remake can be. Marty's taken the smash hit Hong Kong trilogy Infernal Affairs, mashed bits from all three films (largely one and two, but look closely) together, and not just taken it to America, but fascinatingly rooted it in Boston. It's a move that challenges the crime-boss director to move out of his box and explore the Irish-American subculture, away from his mastery of the Italian mobsters. And, how he has triumphed!

Screenwriter William Monaghan has produced an incredible script, borrowing loyally on plot and twist but fusing it with character, originality and magnificent dialogue. Add to that an impossibly perfect cast, and you have one of the year's finest films. This is a ride that ranks right up with Scorsese's finest.

Frank Costello (Jack Nicholson) owns the streets of Boston. "I don't wanna be a product of my environment," he opens the film with. "I want my environment to be a product of me." So saying, he spots the fresh-faced young Colin Sullivan, buys him eggs and a comic book, and -- while whispering clearly filthy words into the ear of the girl behind the counter -- lures him (quoting the suitably Irish James Joyce) into a life of crime.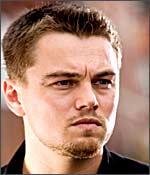 Now, Sullivan's all grown up. Matt Damon is the perfect cop, working his way up the ranks of the police force with clinical precision and a sharp dressing sense -- he rebukes a uniformed colleague for dressing like he was about to invade Poland. He's the archetypal achiever with a smart-mouth, on his way up. Except, he owes his life to Uncle Frank, staying as his man on the inside, tipping him off on cop raids and investigation details. As a result, the villain can't be touched.
Meanwhile, State Police Captain Queenan (Martin Sheen) and Sergeant Dignam (Mark Wahlberg) have a job for Billy Costigan. Billy, played by Leonardo DiCaprio, is a short-tempered boy with a family history in crime. Frustrated and rebellious, he wants to be a cop in a gesture of defiance and honesty. Queenan and Dignam, however, want him in a far more vital role: they want him to serve jailtime, infiltrate Frank's gang, and be their man on the inside, helping them eventually nab the mobster.
The film follows these twin narratives in tandem, with Frank Costello's sinister presence looming menacingly over them both. Even as we see Sullivan rising to a position of power and Costigan being accepted into the underworld, their methods unfolding with beautiful symmetry, there is the steady tension of discovery, of exposition. Masks are poised lightly, so as to fall any moment; everyone's phone lines are tapped; and the intrigue of an impending double-cross hangs constantly, tantalisingly in the air.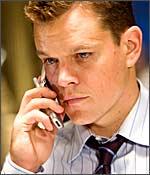 Both Costigan and Sullivan are aware there is a mole in their midst, but neither knows who the 'rat' really is, a question harder to answer when you're a rat to begin with. For one screen-scorching moment, both rats are silent on the phone, waiting for the other's shoe to drop first. It's a truly terrific scene, as Leo holds his breath and Damon hesitantly waits, and sums up the entire mouse-and-mouse film.
And Scorsese, that cunning master fox, ties it all together with panache. Both his protagonists struggle with their loaded, lethal tasks -- and fall in love with the same girl. It's a stroke of genius as both crook-cop and cop-crook trip over the middle ground of pretty police psychiatrist, Madolyn Madden (Vera Farmiga). It sounds obvious, and it takes a virtuoso storyteller to keep it from being so. In fact, a lot of The Departed comes very close to coincidence, but Marty breathes such believability into the proceedings that you swallow every scene. Gladly.
Then, there's the dialogue. Yes, this film brings Scorsese back into the world of the profane, with a couple of hundred f-words and c-words, but it's all so marvellously written. Razor-sharp wit, literary allusions and simple profundity bounce all over the expletive-ridden words people speak in this film, and everything is brilliantly lucid. And there's no room for political correctness.
The performances are awesome, but that seems par for the course with this gang around. Marty's always been good with building big villains, and while Frank Costello is loosely based on real-life Irish gangster James 'Whitey' Bulger, Jack Nicholson arches those infamous eyebrows to make him the devil incarnate. His Costello is a vile thug, cold and heartless, with a tongue to make steel wince. While he pulls both Sullivan (orally) and Costigan (physically) over the coals, he develops into a warped father figure to both protagonists, overwhelming them with his persona. It's a great portrayal of a scoundrel.
This is, quite simply, the best performance of DiCaprio's career. He's heard enough Robert De Niro jokes over the years, but has clung solidly to Marty's coattails, and boy, has it paid off. Leo's leading man -- he is as close to a 'hero' as this film can have -- is a character of fierce, intense believability, and sheer grit. It's also the toughest role to play. Devoid of the film's super one-liners and scathing humour, the actor has to push himself to the extreme to evoke empathy and connect with the audience. The fact that you side (somewhat) with the cops, despite Jack being on the other side, is testimony to Leo's excellent Costigan.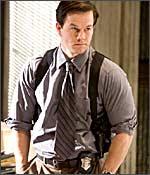 Matt Damon might be under-appreciated in this seemingly straightforward role of the suave pretend-cop, but often displays a delicious edge to his character -- best showcased during his first date with Madolyn. It's a staunch, pretty flawless job, and it won't be a surprise to see him and Leo duking it out for the Oscars in a couple of months. Martin Sheen is reliably fine, though it is initially hard to accept his office not being Oval.
Relative newcomer Vera Farmiga is a very enticing, expressive actress, and works very well in her pivotal role, giving it a lot of credibility. The surprise of the film, though, is Mark Wahlberg, who burns up the screen whenever he's around. Armed with the finest lines, Wahlberg packs a spectacular punch, and you constantly find yourself waiting for his return.
The Departed is a stunning, multilayered work of violent art. The punches aren't pulled, but this film is more than just bullet-deep. It's a cerebral, yet primitive cops-and-robbers drama made with absolute tightness, and it brings Scorsese back to his rightful bloody throne. Goodfellas fans, rejoice.
The best film in theatres this year.
Rediff Rating:

Want to see this movie? Check out Rediff Movie Tickets!



What do you think about the story?








Read what others have to say:





Number of User Comments: 19








Sub: Not worth for 41/2 star

The movie is not that gr8 as told in the review, Nothing new in the movie other than presentation and acting. Script as similar as ...


Posted by chandrashekar









Sub: Amazing....

Simply the best English movie I have seen since Crash!! Scorcese will finally be getting that elusive Oscar this time!! And deservedly so.


Posted by Siddharth









Sub: not as hyped

it is not that great as review... slow movie


Posted by nishant









Sub: that is too good

really good plot and good performances by leanardo and jack.


Posted by Prashant Gour









Sub: Awesome Movie!

'The Departed' is awesome - watch it!!!


Posted by MovieFan






Disclaimer