Home > Movies > Bollywood News

Preity's proud of Jaan-E-Mann

Arthur J Pais in New York | November 02, 2006 18:04 IST



If I were to do it, I would act in Jaan-E-Mann all over again -- and again and again," says Preity Zinta, saying she finds it difficult to understand how such "a beautiful film" got started on the wrong foot.

"I saw the film with some of the most seasoned directors I have worked with in the last seven and half years," she continues, chatting from her Mumbai apartment. "They were very impressed with the film, with some saying that it is hard to believe that a first-timer (Shirish Kunder) had directed it. Some even said that the film had raised the bar for our movies and they have to work harder on their next films."

Jaan-E-Mann : The Rediff Review 1 | Review 2

Personally, she thought the film had enhanced her career profile. "You feel that you are in this industry to act in a film like this," she said. "I have done all kinds of roles right from the start of my career. For I was going to disprove the fear some of my friends had that I would be wearing a white sari and singing songs in the rain. Having worked in a dark film like Kabhi Alvida Naa Kehna, I wanted to act in a relatively light hearted film, and Jaan-E-Mann came along."

"I gave my soul to the film," she continued. "And I will be proud of it even when I am 50. What amazes me is that while the film has so much of technical finesse, it is very Indian in its heart and soul. It is a very Indian subject. It is a film about relationships and mending your marriage."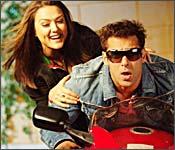 She was very proud of her work in Karan Johar's KANK, she said. "But that film dealt with another kind of reality. I lose my husband in that film. I understand the rate of divorce in India is increasing, but it is still a small phenomenon. I like the idea of a film in which a man or a woman fights very hard to save the relationship or, in the case of Jaan-E-Mann, the marriage." 
She feels some people may have been a bit confused about their perception of the film and what they found on screen, and that confusion could have the marred the box-office take. "Many people went to see it thinking that it is an all fun film," she says. "It has many lighter moments, but it also has an emotional center. And yet in the end, there is plenty of light at the end of the tunnel. And I like working in films with such endings. I can take up an unconventional role in one film but I also need to balance it by working in a film like Jaan-E-Mann."                       
Though the film had opened weakly in India and abroad, especially in the face of the strong start for Don, Preity has been hearing from many people that they were moved by her film. "I think the word of mouth is going to make a difference and the movie could start galloping," she continues, talking with us on the tenth day of the release.
Her hopes may not be misplaced, at least abroad. Though the film opened feebly in North America and the United Kingdom, the drop in the second week was miniscule. Most Hindi films lose about 55 percent of its box-office in the second week.  It could end up grossing in both territories a decent $1.5 million, far smaller than the $6 million (on the conservative side) expected from Don. But Jaan-E-Mann is certainly far from being a dud. Apart from the word of mouth, it also gained in North America and the United Kingdom from the fact that distributor Adlabs is continuing its advertising blitz.
Working with Karan Johar and Kunder almost back to back was quite an experience for her, she adds. "Some people were disturbed with KANK, but could the film have become such a big hit if people really disliked it?" she wonders. "I think people were taken aback by the film because of its subject but they got to like it as it unfolded." But she cannot understand how anyone can fault Johar for making KANK. "The very people who used to say that he makes these sweet, emotional films seem to be criticising him for making a very different kind of film," she muses.
Both Johar and Kunder burn with intensity, she says, adding there is special fun working for a first time director. "You know that he wants to create something truly memorable because it is his first film," she explains. "And you know that he will always remember that his first film was with you."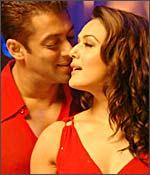 She is also proud that Jaan-E-Mann "is a very sweet and very clean film." There is not even a moment's hesitation in seeing it with children, she continues. "There is no double-edged dialogue in the film," she adds. "Parents don't have to worry about shutting the eyes of their children any time during the film."
"Children are like mini sponges," she continues. "And they ape the adults. So giving them wholesome entertainment becomes a must."
Preity Zinta's star as an actress and her clout as a box-office force are steadily rising, but she says her success in recent years is in fact pushing her to slow down.
"It has become important to me to reduce my workload," she asserts. "Some people may feel insecure in the face of continued success, worrying about how the next film would fare. But I remember that nobody is invincible and success cannot last forever."
Seeing that she's been bringing up the subject of marriage and the need to fight to keep it intact, we ask her if she has plans to tie the knot soon.
"Soon?" she asks and pauses for a few seconds. "I don't see it happening it tomorrow or the day after."


What do you think about the story?








Read what others have to say:





Number of User Comments: 8








Sub: M

you are exalant


Posted by GANESH









Sub: 4 preity zinta

hi ms.zinta u look good in sallam namaste. ur 'pretty' in that movie. i want to act in films will u please give me chance.


Posted by anirudh









Sub: know more about priety zinta

hou r u priety


Posted by ranjit singh









Sub: old?

Just read someone say P looks old.. and who looks young -- Salman? Like it or leave it all the forty-thirty duos will have their ...


Posted by metoo









Sub: hiiiiiii

www


Posted by vinod






Disclaimer