| | |
| --- | --- |
| Arshad Warsi | |
| | |
| | |
| | |
| | |
| | |
| | |
Advertisement
November 01, 2006


He's the toast of Bollywood.

The world loves Lage Raho Munna Bhai, and Arshad Warsi [Images] is lapping up the applause as the incomparable sidekick, Circuit.

Starting Friday, November 3, Arshad heads to the small screen to host Bigg Boss, an adaptation of international reality show hit Big Brother. A phenomenon in the west, Arshad feels the show might strike gold here too, as he tells Srabanti Chakrabarti. Excerpts:

After such mega success on the big screen, why this sudden decision to venture into the small screen? What is your role in Bigg Boss?

As you perhaps know, Bigg Boss is an Indian adaptation of Big Brother -- the immensely popular television reality show in the West. When Sony TV first offered me the role, I was a bit reluctant to take it up. Indian television has issues with censorship and I was not sure to what extent Bigg Boss would be allowed invade the privacy of our celebrities. However, after the channel authorities briefed me on my role and the show, I was convinced that it would be a good experience for me. And that is how I opted for this role. My role will be to talk to the participants who will be voted out of the show and make them feel comfortable despite the loss.

That sounds like a typical compere role. What is so special that made you opt for the job?

On the big screen I act according to the script and director. But in Bigg Boss, people will see me as Arshad Warsi. There will be no script to follow, no character to portray. Everything will be impromptu and I will have to lighten up the atmosphere by chatting with celebrities who have been voted out. It will largely be what I want to do and say at that point in time. I feel this was challenging enough for me to take on.

Would you have participated in Bigg Boss as a contestant?

No! I don't see myself participating in a contest like Bigg Boss. I am an extremely private person in real life and please don't make any assumptions based on the characters I portray on the big screen. Even when I go for out of town shoots, I always ask for a room that is away from the rest of the crew -- I need my space and personal time. And I want to enjoy my free time with my family.

Do you get time to watch television?

Yes. Television is a very powerful medium in today's world. There is no way you can avoid television. My wife (Maria Goretti) is an avid watcher of television and I give her company whenever I get time. In fact, just yesterday I returned home early and had a lovely time with my family watching Jhalak Dikhlaa Jaa together.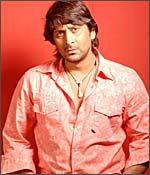 Moving over from the small screen to big screen, how has life changed after Munna Bhai?
Running the risk of sounding cliched, let me tell you that it feels great. After struggling for a decade, the taste of success is definitely very sweet. It feels great to have a strong foothold in the industry today. But I feel the bad phase in my life has taught me a lot -- more so since I don't come from a filmy background. I just thank my stars that I did not lose patience and continued to struggle. If I had left the battlefield midway, I wouldn't have seen today's success.
Tell us something about your forthcoming films.
In December, Kabul Express [Images] is scheduled for a release. It is a very nice film where John Abraham [Images] and I play journalists. An extremely well-made film, I am sure the audience will like it. Apart from this, I am also working on am untitled film directed by Kabir Kaushik. It is based on supernatural things. I am also working on a Vikram Bhatt film and a new project by ace photographer Subi Samuel. The latter is based on a dance theme and I am very excited about it. Not sure whether everyone is aware, but I started my career as a choreographer, and dancing still continues to be a passion for me.
Big Boss: November 3 onwards, every Friday at 9 PM & Monday - Thursday at 10 PM, on Sony Entertainment Television.