Home > Movies > Interviews

The Rediff Interview

Say hello to Gujju rap, with Karmacy

Komal Mehta | May 31, 2006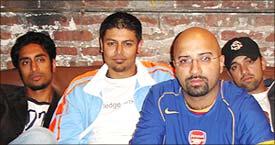 Once upon a time, rapping was supposedly a black 'ghetto' thing indicative of a trademark VH1-American culture. Then came the second generation of UK/US-born Indians like Jay Sean, SWAMI and Bohemia, who tried to gel hip-hop with bhangra beats and did a fairly decent job of it. Now, the evolution has gone one step further. Say hello to 'Gujju' rap.
US-based band Karmacy has been creating quite a stir with its album The Movement, particularly the innovative track Blood Brothers. Here is a rap song that doesn't use swear words, and doesn't talk about guns or babes. It speaks, instead, about the lives of Indian immigrants in America…and in their own languages too – Gujarati and English!
Now, Karmacy plans to create history by being one of the first bands of Indian origin to perform at HOT 97 FM's (the #1 radio station for R&B and hip-hop in USA) concert in New York on the June 24. They also plan to come to India in November or December this year. To find out more, stop by their Web site.
| | |
| --- | --- |
| | More on rediff.com! |
| | |
rediff.com caught up with the four members of Karmacy -- Sammy Chand, Nimo, Swap and KB -- to discuss their unique music, their influences, creative differences and future plans. Excerpts:
How did you decide to pursue a genre so foreign, using Indian languages?
Sammy: Our music reflects who we are. We are Indian kids in America and there are a number of different influences inside us. So, by using English, Punjabi, Hindi or Gujarati, we are trying to establish a connection that was probably unidentified. There are Indians in America who are completely disconnected from India and it is easy to lose authenticity here. So, when we see kids rapping in Gujarati or Punjabi, it makes us happy. Suddenly, it is cool to rap in your native languages and that makes acceptance of your culture easier.
Nimo: We are always trying to push boundaries with our music and evolve beyond the obvious. Also, there are thousands of different people who listen to our music and it has to appeal to all of them and connect with them. Blood Brothers, for instance, was written by Swaps while he was college. The song had a story to tell about two brothers -- one of whom comes two America and the other who in India -- so it was Swaps' idea to make the song part Gujarati and part English.
You sing in Hindi, Punjabi, Gujarati, English and Spanish. I get where the first four languages come from, but Spanish?
Sammy: We have a huge Spanish population in America and it is like a second language in Los Angeles. We grew up learning Spanish and it is one of the common voices on the streets here, so we decided to inculcate it into our music.
Was Gujarati deliberately used on account of the huge population of Gujaratis in America, or was there another reason?
Swaps: Two of us speak Gujarati, one of us is Punjabi and the other is from South India. All of us are from California, so we all speak English and Spanish. Our goal is to connect with people through music. One of the best ways to do that is through the direct use of different languages. We deliberately chose to utilize these languages in order to paint vivid pictures of various life experiences. When people hear their mother tongue used in an innovative manner, they pay more attention to what you are saying. We figured no one had done this before.
Tell us about your musical influences.
Nimo: Normally, while making music, we are concerned with the message we give out. So, we listen to a lot of hip-hop.
Sammy: If I could describe our music, I would like to call it a combination of A R Rehman and Dr Dre. I think if you were to lock them both in a room, they would make music like Karmacy –a combination of hip-hop and Indian music. Also, all of us like to listen to a lot of new music.
Do all of you write lyrics together? Are there ever any disagreements?
Nimo: Yes, we write our lyrics together. Normally, the lines spoken by someone in our videos are lines the person himself has written. Whenever we have a disagreement, we lock ourselves in a room and beat each other with cricket bats (laughs).
Sammy: The four of us have a good synergy between us and get along very well. We were raised with the same values and morals and have similar perspectives. So, normally, when we are writing, we take each of our individual experiences and collaborate to create something interesting.
Who are your favourite Indian artists?
Nimo: We like A R Rahman and Rabbi Shergill and some upcoming artists from UK and USA. We listen to music that, like our own, goes a little beyond the obvious and stretches the limits.
Sammy: We also like Nusrat Fateh Ali Khan and Jay Sean, but we generally tend to listen to progressive artists who explore newer dimensions and have gravitated from the usual stuff.
Are you all open to composing music for Bollywood?
Sammy: We composed a song for Gurinder Chadda's Bride And Prejudice but, for some reason, it wasn't included in the movie. We are open to working for Bollywood in future. We listened to Abhishek Bachchan rapping for a movie and it sounded good. We have composed some original songs that were used in some movies around here (American Desi, Where's the party, yaar?, Leela) and, as hip-hop gains more popularity in Indian cinema, we will be open to working there.
With bhangra finding huge appeal with international artists, do you think 'international' Indian music has finally arrived?
Nimo: I think Indian music is definitely gaining respect, but as a sound. No artist is well known yet, at least in America. I think there is still some time before Indian artists can evolve and develop an international appeal.
Sammy: There are not many labels here that will promote Indian sounds. Also, the Indian music being made now is very specific and not American or universal in appeal. As a businessman (Sammy is also the group's producer), I would say that very few people find it lucrative. Even if there are interested people, the market and infrastructure doesn't really exist.
Would you ever think of leaving America and coming back to India?
(Both Sammy and Nimo laugh for 5-10 minutes). Nimo: The story we've portrayed in Blood Brothers is the story of immigrants. Now, all of us are American citizens. I was born in America and this is home. But, for my parents who migrated from India, things have come full circle. They feel strongly about going back and are seriously considering living in India. They are thinking of an arrangement where they live there for 6 months a year.
Now that your first album has been so well received, what are your plans for the future?
KB: We will definitely continue to push The Movement, but our second album is already under way. We can't wait for more people to hear our first album so they can appreciate the second one.
Sammy: Our second album is called People are changing. As musicians, all four of us are very excited about this album and consider it our best work. Even talking about it as a producer, I think it is head and shoulders above all we have done. We hope to release it before the end of the year.


What do you think about the story?








Read what others have to say:





Number of User Comments: 3








Sub: yeah guys this is lali

hi...........hi....... a big hi to everyone! actually how u got interested in this area?


Posted by s.lalitha









Sub: Very interesting

Although I don't understand Gujrati(the captions helped out a lot) the song featured on their website was very thought provoking indeed... to an extent I ...


Posted by Shivam Pandey









Sub: 'Gujju...

Why we gujaratis called 'Gujju'??? dare to call a Punjabi a PANJUU and suffer... any Gujarati with a drop of self esteem should never use ...


Posted by BS VAIDYA






Disclaimer