Advertisement
May 25, 2006 17:39 IST
Last Updated: May 25, 2006 20:52 IST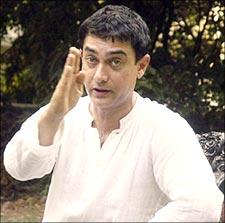 Aamir Khan addressed a press conference outside his home in Khar, north Mumbai, saying he will not apologise about his comments on the Narmada issue.
"I am saying exactly what the Supreme Court has said. I only asked for rehabilitation of poor farmers. I never spoke against the construction of the dam. I will not apologise for my comments on the issue," he says.
Aamir's remarks against the Gujarat government and Chief Minister Narendra Modi [Images] evoked violent protests in Gujarat.
The state has even decided not to screen his new film, Fanaa [Images], which releases worldwide on Friday.
Meanwhile, when Prime Minister Dr Manmohan Singh [Images] was asked to comment on the Gujarat protests against Aamir and his film Fanaa, he said, 'I do not believe in violent means of protests. Everyone has the freedom of expression. If someone says something on a particular subject, that doesn't mean you should start protesting.'
Here is a quick take on what Aamir said at the press conference:
| | |
| --- | --- |
| | More on rediff.com ! |
| | |
The Bharatiya Janata Party is opposing the release of Fanaa in Gujarat because you participated in pro-Narmada dam rally. Is that correct?
Let BJP do their karam (work). I will do my karam. Every man has a right to do what he or she wants.
I will be unhappy because the people of Gujarat will be unable to see Fanaa. BJP has leaders like Atal Bihari Vajpayee, Sushma Swaraj and Arun Jaitley. I hope they understand my viewpoint.
Don't you think Fanaa will lose money because of your statements?
People are losing their homes, temples and schools because of the Narmada dam and they are not getting an alternative replacement. I don't think Rs 5 to 7 crores (Rs 50 milllion to Rs 70 million) will matter when it comes to their lives and livelihood.
Are you opposed to the construction of the Narmada dam?
Let me specify that I am not opposed to Narmada dam construction. All I want is that the people, who have been ousted by the construction of dam, should get alternative accommodation.
The BJP wants you to apologise. Will you?
I will not apologise. Why should I apologise? I am not saying anything wrong. Even the Supreme Court of India says the same. So will the BJP tell the Supreme Court of India to apologise as well? The BJP is a strong and big party and I am a very small man compared to them. If I am speaking for the poor, why should I apologise? If someone explains to me that I am wrong, then I will surely apologise.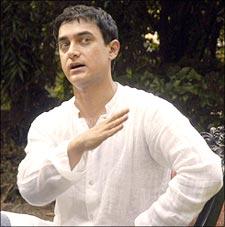 The people of Gujarat will not get water if the dam is not constructed. Are you aware of that?
I want the people of Gujarat to get water. I love the people of Gujarat. I want them to have a good quantity of water but there should be justice for the displaced people too. Half of my friends are Gujarati and they, too, are supporting me.
You have also talked against the Gujarat Chief Minister Narendra Modi for his role in post Godhra riots of 2002.
I said that during the Gujarat riots. I feel it is sad that innocent people are getting killed in riots. I strongly feel no innocent Hindu, Muslim, Sikh or Christians should get killed in riots. I am also against [US President] George Bush [Images] who is killing innocent people in Iraq. I feel all human beings should oppose such people. Those who instigate others in the name of religion are wrong. Period.
Do you think you you being targeted because you are a Muslim?
I am an Indian first. Some people call god Allah and some call him Bhagwan. If anyone kills a person in the name of religion, it is wrong. This issue is not about religion. It is about poor people who need rehabilitation. I have got the right to my opinion. The BJP is taking a stance and everyone in India can see that what kind of party they are. They cannot tell me to shut my mouth.
Why don't you support the Kashmiri Hindu Pandits who have been displaced from Jammu and Kashmir [Images] because of terrorism?
Of course, I support the Kashmiri Pandits. I will voice (my feelings) against terrorism in Jammu and Kashmir. It is unfair to target Kashmiri Pandits just because they are Hindus. I am also against the ways terrorists, of attack by bomb blasts as only innocent people get killed.
Will you donate money to Narmada dam oustees?
Yes. I will give them money to relocate. 
Does Fanaa's producer Yash Chopra [Images] agree with your cause?
Everyone in the film industry is with me. In fact, everyone is with me, except the BJP.
Will you take back your statement if your film suffers losses?
I will stand by my words.
Are you interested in politics?
No. I am an ordinary citizen of India. We have a democracy and I feel I have a right to express my opinion.
What do you think is the solution to this?
I can fight legally. I can also go to the producers' association. Our film talks of heroes fighting against injustice but now I am doing it in real life.
Why don't you phone Narendra Modi and tell him to sort out the issue?
Why should I phone him? Why should I interfere in his work? Let the people decide who is right and who is wrong.
Isn't it true that your relationship with Gujarat has been spoilt?
That's not the right way to say it. My relations with the people of Gujarat will be forever. My relations with the political parties of Gujarat has been spoilt. I remember I did the first screening of Lagaan [Images] at Bhuj. I participated in the rehabilitation process after the Gujarat earthquake.
Even Gujarat's Congress leaders are opposing your stance?
I don't know about this. But if it is true, then let them oppose (my stance). Let the people decide who is right and who is wrong. I stand by my words.
You are the brand ambassador of American companies like Coca Cola. Author Arundhati Roy, who is part of the Narmada protest, has claimed they are anti-national?
I have said this earlier. I am investigating this issue and will give you a definite answer in one or two months.
Do you have any comments on the deadlock between Yashraj Films and the multiplexes.
The multiplexes are charging very high rates. They should reduce their prices. I don't believe that Yash Raj is using arm-twisting methods to deal with multiplexes. But this is my personal view.
Any message to the country?
I want the people of India to see that here is a political party (BJP) that does not believe in democracy. Here is a party that does not believe in the rights of poor people. I believe in democracy and if I believe in a cause. I will support it. Nobody can tell me to keep quiet.
Inp
uts: Onkar Singh | Photograph: Arun Patil