May 22, 2006 18:23 IST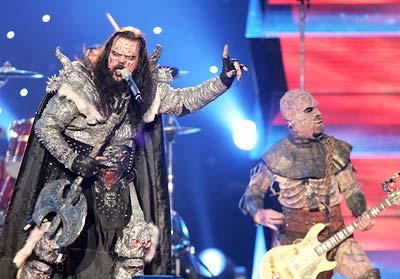 In case you think Halloween's come early, let us assure you -- it hasn't.
The picture is of Lordi, the Finnish horror rock group that won the 51st Eurovision Song Contest at Athens.
The Contest has been on since 1956, but it is more about kitsch pop and good-humoured patriotism than stunning musical virtuosity. As the Guardian's rock critic Alexis Petridis put it: 'When did quality music ever come from the Eurovision anyway? To see people from countries you've never heard of perform weird concoctions on stage is just fantastic.'
Lordi's winning song -- which earned them the prize over 22 other acts -- was called Hard Rock Hallelujah. It had such profound lyrics as: Wings on my back, I got horns on my head/My fangs are sharp, and my eyes are red/Not quite an angel, or the one that fell/Now choose to join us, or go straight to Hell.
And the band lived up to its image, dressed as orcs, complete with latex masks and talons.
Speaking to the media after the win, the band leader said: 'We are not Satanists. We are not devil-worshippers. This is entertainment. Underneath [the mask] there's a boring normal guy, who walks the dogs, goes to the supermarket, watches DVDs, eats candies. You really don't want to see him.'
'We won the contest, looking like this,' he said. 'It just goes to show that Europe is not such a bad place.'