Home > Movies > Interviews

The Rediff Interview / Puri Jagannadh

Puri Jagannadh on the success of Pokiri

R G Vijayasarathy | May 19, 2006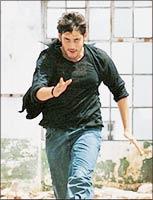 Puri Jagannadh began his career as a writer and director of TV serials for Doordarshan, Hyderabad and then Gemini TV, but he is now one of the most successful directors and producers in the Telugu film industry. He has, after all, produced successful films like Badri with Pavan Kalyan, Itlu Shravani Subramanyam, Idiot and Amma Nanna Oka Thamil Ammayi with Ravi Teja, Shivamani with Nagarjuna and now Pokiri with Mahesh Babu.
Puri has also had his share of failures, like Andhrawala, 143 and Super. He has won many awards including a Nandi state award. His second Kannada film Appu, a sensational hit, won Filmfare awards in all categories. Even as his latest, Pokiri, creates records at the box office, Puri has already begun writing the script for his next film with Allu Arjun. Excerpts from a conversation:
| | |
| --- | --- |
| | More on rediff.com! |
| | |
Pokiri is turning out to be the biggest hit of your career. Did you expect this success?

Although it has come as a surprise to many, I had a feeling the film would do extremely well. Many of my friends in the industry are amazed at the way it is performing. Yes, Pokiri is the biggest hit of my career and is also showing all the signs of becoming the biggest hit of Mahesh Babu's career too. It is doing well not only in the cities, but also in many semi-urban centres. It has had a fantastic opening even in Karnataka, and has been successful outside India too.

What do you think worked in its favour?

Everything connected with the film worked out well -- the music, script and casting was perfect. I had visualized many sequences while writing the script, and they have come out the way I planned.

What I told Mahesh Babu two years ago was a different story, and he didn't like it. I then told him about Pokiri, which he liked a lot. Both of us had lots of discussions about the way the film should be made. We thought of presenting it as a stylish, commercial entertainer. The visuals are stunning thanks to the efforts of my cameraman Chota K Naidu and music by Manisharma. I think these are the factors that helped.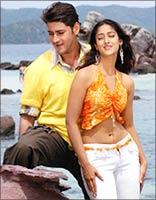 What was working with Mahesh Babu like?
I have worked with many heroes but Mahesh is different from them all. He is a thorough professional who respects and trusts his director. An actor and a technician should have mutual respect and trust, which we did. While on the sets, he thinks only about his work, and you will not see his friends visiting him or chatting with him during shooting. Above all, he is a great performer and the role of Pokiri fitted him very well.
You have successfully introduced fresh faces in many of your films. But Ileana, it seems, is your best choice...
Ileana has good screen presence. It was the chemistry between her and Mahesh that brightened the film. I had selected her even before the release of her first film, Devadasu.
You worked with music director Chakri in many of your films but chose Manisharma for Pokiri. Why?
Manisharma's name was suggested by Mahesh Babu. I must say the film has reaped maximum benefits from his score. I am very particular about good music in my films.
How do you manage to write the script and dialogues while also being the director and producer?
I began my career writing scripts and dialogues for serials and single episodes for Doordarshan. Writing is my passion. Puri Jagannadh the writer gets more focus into projects than the director. I have won more awards as a scriptwriter and dialogue writer than as a director.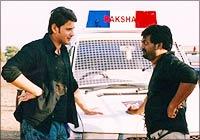 You have made films with Shivaraj Kumar and Puneet Raj Kumar in Kannada. Have you any plans of returning to Kannada cinema?
I want to do a Kannada film but, with my present commitments in Telugu, I will not be able to immediately. In fact, Puneet Raj Kumar's Aajay is directed by my associate director Mehar Ramesh.
What is your next project like?
My next film is with Allu Arjun and I am currently working on the script.