Home > Movies > Interviews

The Rediff Interview / Himesh Reshammiya

Himesh Reshammiya: I am foremost a composer

May 17, 2006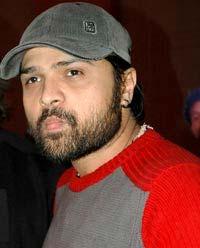 Himesh Reshammiya says he can understand why some people consider him arrogant.
"I speak from my heart," he says, adding that he does not believe in flattering people. And, though he is one of the hottest names in the music business now, he calls himself a "low profile guy" who also happens to be shy. "To some people, this is arrogance," he says ruefully.
Reshammiya, who began getting noticed with his solo Odle chunariya in the movie
Pyaar Kiya To Darna Kya over eight years ago, scored his biggest hit about two years ago with the Salman Khan starrer Tere Naam.
"Today, I work for every big banner in Mumbai and for practically every big director," he says. But he says he will never forget his roots and if there is a low budget film with an interesting theme, he will compose for it too.
| | |
| --- | --- |
| | More on rediff.com! |
| | |
"In the last six months, I have had 27 chart busters," he says, adding, "and my album Aap Ka Suror has given the music industry a new life and confidence. Now, surely, there is more than talent involved here."

Asked about baseball cap and beard image, he says it was the idea of his long-time friend Prashant Chaddha. "I surrender myself to him when it comes to the video clips," the 37-year-old Reshammiyya adds.

In an extensive telephone interview with Arthur J Pais, the singer and composer speaks freely about talent, luck, good karma, and how much he owes his father, Salman Khan and god.

Is this new image, with a baseball cap and beard, going to be permanent?

This was created by my friend and it seems to have worked very well. But soon you will see me with a different look, when the new video clips of my songs from the album Aap Ka Suror are going to be out.

Some viewers have been saying you look too glum in the video clips…

The songs you have seen me singing in the clips from Aap Ka Surur are about the journey of a true lover. There is heartbreak and pain in them. But if you watch me in the video clip of I love you Sayoni, you will see me smiling.

Have you been tempted to turning to acting?

In movies or TV? Not at all. I am happy to be a composer.

Is there a key philosophy to your music?

I love to simplify the ragas and use them in my music as much as possible. Simplified ragas and lively orchestrating. And you catch the attention of the young, and slowly older audiences surrender too to the music.

Are you afraid of anything?

Stagnation. And that is why I take up films like Banaras, which has very different kind of music than the one I have created in recent months.

Some critics say that your Sufiyan kind of songs with Middle Eastern layers of music sound too similar.

I truly believe in variation. Even then, the critics would be surprised by the soundtrack of some of the forthcoming films.

Subhash Ghai was in New York a few months ago and he was talking about how talented you are.

It was very kind of him. I have composed music for many of his films including the latest, 36 China Town. But frankly I do not believe in talent valent being the real cause of success.

Really?

See talent is important, and so is hard work. But if you don't have destiny and good karma on your side, talent cannot do the magic by itself. There are a lot of composers out there who are more talented than I am. But if destiny is not on your side, and your karma is not helping you, you can't really make it big anywhere.

And god surely seems to be incredibly kind to you.

(Laughs) Right now, I feel I am on a creative highway with god on my side.

And apart from god?

I am indebted to three people for my success. My father for giving me the break, to Salman (Khan) bhai to for having given me not just the big break but many more opportunities, and, of course, god for looking after me all the time.

Some people are still surprised the way you have taken to singing…

But most of my singing is for the non-film album. In the films I may have just a song or two. I am too fond of other singers -- from Udit Narayan to Sonu Nigam to Kunal Ganjawala -- to do more of my own songs. People ought to know a few things about my singing in the films…

And what would it be?

My father gave me the training in singing, and I have taken my classical singing education seriously. It is not that I became a singer overnight. Though some of songs such as Zarra jhoom jhoom (in Tom Dick & Harry) have become phenomenally successful, I always obey the person who has total control over me as a singer.

And who would that be?

It is Himesh Reshammiya, the composer. I am foremost a composer.

How do you decide on singing a song of your own in a film?

Himesh Reshammiya the composer had to give permission to Himesh Reshammiya, the singer. It is like picking a card from the deck. I think deeply before I let the singer in me get the permission.

Has any other composer asked you to sing for him, especially after you won the Filmfare award?

No. But I will say this much. If at all there is one composer I would sing for, however occasionally it would be, it has to be A R Rahman.

What have you taken most from your father?

Him constantly telling me to be humble, and I think that is very important in any field. He was an innovator in his own field, and he was also responsible for introducing electronic instruments in the movie industry. I have learned from him to be daring and experimental.

You are also known for the speed with which you compose.

I am restless. I think I have more than a 1,000 tunes in my song bank. But I also know that unless I have worked on those tunes a lot and they are set to good lyrics, they are not going to be successful. Many people do not know how hard I work. There are many days I work more than 18 hours. I am prepared to work even 24 hours if a particular tune is not working out well to my satisfaction. I will only rest when I am truly satisfied with it.

Are you worried the way some composers suddenly go out of favour?

I think it is important for every composer to look at every new film as something very important and precious. I would like to think that every film as my first film. I want to forget that I have composed music for such hit films as Tera Nam and Aitraaz. I try to compose a new tune as if everything depends on it. I will never let forget that the audiences are always smart. They don't care for brand names in music. If I am not good they will reject me immediately, never mind what I have achieved just the other day.

You have given a break and encouragement to a number of singers including Tulsi Kumar. What are some of the things you tell them?

Being associated with the Sa Re Ga Ma Pa contest has brought me close to many aspiring singers. One of the contestants, Vinit Singh, has sung for me in Rocky. Himani Kapoor is another talented singer. I ask them to listen to the best songs of Lataji (Mangeshkar), Ashaji (Bhosle), Mohammed Rafi, Kishore Kumar and Alkaji (Yagnik). There are many more wonderful singers. I tell the new singers the importance of practice. And I try to inspire today's singers to sing like the legends. I tell them if they cannot emote the notes, if there is no real shruti in the music and singing, the songs just won't appeal.

What do you pray most for?

To Goddess Saraswati to be on my side.





What do you think about the story?








Read what others have to say:





Number of User Comments: 12








Sub: Lagi lagi lagi - - - ek dardh hai ek pyas hai- - Life is so strange- -

Good morning sir once again How r u ? I m fine- - actualy not fine - -so sorrofull not well - - life is ...


Posted by pratik sonawane









Sub: Life is so strange

Good morning Himesh reshmiya sir, Nice so nice your songs, lazawab- - - I want to help u in u r music songs etc wiht ...


Posted by Pratik sonawane









Sub: Great

you are a great singer. Himani kapoor is also Fabulous I wish To be her friend. Tk Cr. Gob bless both of you


Posted by Honey









Sub: Himesh Reshmiya ' First Indian Rockstar'?

hi himesh reshmiya, iam from Dehradun i like your songs u r the best singer and composer. ur different typed songs and composer. ur the ...


Posted by sachin









Sub: i love himesh reshmiya

hi himesh reshmiya i love u iam from kerala i like your songs u r the best singer and composer. i like u looking nice ...


Posted by Rupak






Disclaimer