Home > Movies > Interviews

The Rediff Interview / Vikram Bhatt

'Ankahee has nothing to do with Sushmita'

May 17, 2006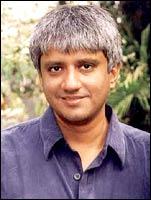 The buzz about Ankahee was that it was about the relationship between Sushmita Sen and director Vikram Bhatt. And the director had admitted as much. But now that the movie is set to hit theatres on May 19, the director says the movie could be about anybody, that it is just about human emotions.
Patcy N listens in as the director talks about a project wrenched from his own life.
What story are you telling in Ankahee?

The same old shit. I don't think there are many new stories. I think everyone has a take on it and spins it. Just to illustrate my point, let's take Rang De Basanti. We have seen many agitations, we have seen people going and killing ministers (in movies). Rang De is a new take on it. Somebody killing the defence minister has been done since Inquilaab (1984) where Amitabh Bachchan took the gun and went into Parliament. It's not a big thing.
| | |
| --- | --- |
| | More on rediff.com! |
| | |
I feel Ankahee is a very honest film. It says that in a relationship where there are three people, everybody is doomed. Nobody comes out happy. In the metros today, there is so much heartbreak. The urban angst is leading to so many broken houses and quagmires of relationships. I think people will discover themselves in Ankahee.

Is the story inspired from your life?

It is not based on any person. It is based on my emotions. It is marketable to say that the film is based on Sushmita Sen. It has nothing to do with Sushmita. All it has to say is the fact that I was in a relationship when I was married. And that relationship made me and people around me feel lot of things. I have seen these emotions at close proximity. I have taken these emotions and made fictional characters.

So, there is truth to these emotions that these people are feeling. But there is no truth that these are the people.

Esha Deol on Ankahee, her upcoming film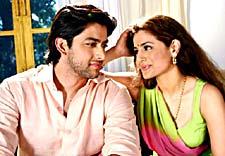 Was Sushmita upset?
By now Sushmita knows that it is not about her. I think I have said it enough times that it is not about her. And I really don't need anyone's permission to make a film on what I felt. And it's not about her, it's about a father talking to his daughter.
You have a character playing Miss World in the movie. She is also an actress.
It was very important that I keep the other woman a celebrity.
So could it be any other celebrity?
Do you write about business tycoons? You don't. Media doesn't write about the extramarital affairs of business tycoons. Not at least at the time when I was going through one. There is a media explosion now. Page 3 hardly existed in those days – in 1996.
My life was played out in front of the media. There was public humiliation, ridicule and accusation. There was judgment by the media and the people. It is important for one person to be a celebrity. I wasn't. She was.
There are millions of celebrities. If someone is going out with a celebrity, that doesn't mean Ankahee is their story. Amisha is a celebrity, so maybe she will be upset when she watches it too.
The last thing I am scared is about the media judging me -- because somebody's tragedy is somebody's entertainment. What do I care?
'Men are emotionally weaker than women'
How do you make a movie based on your own life? Is it not disturbing to go through all that all over again?
In a way it is also cleansing process. We bury our head in the sand and imagine that things before didn't exist. We choose to forget them but they harrow you and then you can't make peace with yourself. The wounds never heal. They are never really shut; you just pretend they are shut because we move on with life.
But for me it's not a story. For me its what I felt. It's a process of coming to terms with what I have felt. It is difficult, especially when you are saying it out in public. But it has got to be done.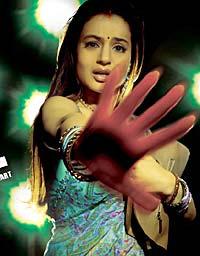 How do you end Ankahee? Is the climax fictional?
Sadly, it will be fictional. How else can we end?
Why did you change the title from Aakhir to Ankahee? Why Ankahee?
Honestly, Aakhir was registered and we didn't get it. But if you want to know the creative story, it's because I don't feel there is a final word for anything. When I started out the film, I thought this was the final word about what I feel. Then, while I was writing the story, I felt maybe 10 years down the line I might feel something different about what I feel now. So, I thought let me call it the untold (Ankahee) story instead of the final (Aakhir) story.
Why was there a change in the cast?
The project shifted hands from one producer to another. And the producer saw the marketability of the project in a different way. So they requested me to change the cast. They wanted to pitch it for another kind of a budget.
Was it difficult to balance the emotions of the two actresses in the movie?
This movie is (about) no one's emotions. They are purely my emotions. Ankahee is not about the wife's emotion or the other woman's emotion. It is about the man's emotion. It is about the man who feels trapped in this relationship of two women and it is only about that. Every film has a point of view. For example Arth is Shabana Azmi's -- the wife's -- point of view. Similarly Ankahee is about Aftab's emotions. It's about Aftab talking to his daughter who he has not met in 16 years. And he tells her that you must have heard the story from your mother or other people, but let me tell you my side of story. It's like Capote --when you see the film it's not about killings, it's about this man and what he is feeling. You can depict one story in two different ways and the villains and the heroes change.
Did Aftab justify your character?
I think so, but it is very subjective. You will have to see and tell if you really feel for him. I think very honestly it is a story of a man who is wrong. If at the end of it you can forgive him, then he is justified.
Was it difficult to convince Esha Deol to do intimate scenes with Aftab?
There are no bold scenes. It's a 'U' film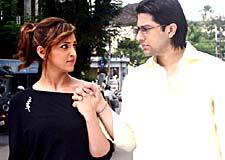 Were the actors upset with the screen time they got?
There was a bound script that I gave the entire cast. It's a different thing that none of them read it. And the only scene that was cut from the script was the one that didn't include any three. There is no scene in the film that has been cut or tampered otherwise.
Esha has seen the film and Amisha hasn't and Esha is very happy with it. I am not in the business of promoting Amisha by cutting some other actresses role. I am here to tell a story. I am not here to sabotage careers -- that's not what Amisha and I discuss in our privacy.
Tell us about your cameo in the film?
I have just one shot in the film.
Is it like Subhash Ghai?
I don't know whether I should take that as an insult or as a compliment. We were running out of junior artist that day and I decided to step in and help the production and be one of the junior artists.
What are your expectations from this film?
I am not the kind of guy who says that the audience went wrong. I have gone wrong on many occasions. There is a lie detector in each director, which tells him whether the film has gone right or wrong. The rest all is marketing. When I saw Ankahee, I was very moved. I felt broken inside.
When you are so broken, what about the others?
It is about me, so I am broken. And if anyone is the villain of the peace in Ankahee, it is me. And that's what he tells his daughter. Because in life I feel nobody forces you to do something. You make your own choices. Even extramarital affair, it's your own decision. And you suffer for it and pay for it. That's what Ankahee is all about.
Is the approach to the film is different?
I wrote Ankahee in five days. There was no lying, no cheating or so called commercial trappings like sister's rape or a wedding song. It's very plain, from the heart. The technique is different. It is a very realistically told story. The camera hardly does anything and there are lots of silences.
How do you feel now?
Right now I feel as if I have tendered a letter to the people. I have said my piece in the film -- whether you judge me right or wrong for it, I don't know.
What if the judgment is not in your favour?
Nothing. What will happen? It has already happened once. It will happen again.
What is your family reaction to it?
They haven't said anything as yet. Maybe they will after seeing the film. It's my life and I have the right to base anything on my emotions.
What are your other films that are coming up?
There are three projects coming up: Red, Rooh and Speed.


What do you think about the story?








Read what others have to say:





Number of User Comments: 2








Sub: vikram bhatt-ankahee

To the first Q the director says "same old shit".After reading this how can you expect anyone to go and watch this flick. I think ...


Posted by swades









Sub: Please dont comment on movies like ''Rang de basanti''

If you are unable to deliver a good movie like "RDB"..its better not to comment on that.. !! there are good stories available .. jus ...


Posted by Subish






Disclaimer