Home > Movies > Reviews

Tathastu: Nothing to talk about

Patcy N | May 12, 2006 17:22 IST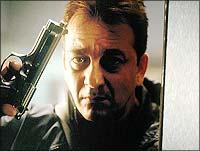 Impressed by the stylish Dus, directed by Anubhav Sinha, I walked into the movie hall expecting Tathastu to be better. Five minutes into the film, I realised it was a copy of the Denzel Washington-starrer, John Q! I stayed on. Washington had, as usual, performed well. Would the now polished Sanjay Dutt do justice to the character?
Tathastu begins with Ravi Rajput (Dutt) running to hospital, where his son Gaurav (Yash Pathak) is after collapsing while playing cricket. Doctors tell him his son is seriously ill and needs a heart transplant. Rs 15 lakh must be deposited before the operation begins though. As a factory foreman, Rajput has no such savings. He can ask the factory for a loan and turn to a Rs 5-lakh insurance policy booked for his son. However, the factory can only give him Rs 75,000, while a failure to pay the premium has resulted in the policy losing its validity.
| | |
| --- | --- |
| | Also Read |
| | |
A helpless Rajput meets his wife Saroj (Amisha Patel) at the hospital. Needless to say, she wants her son at any cost. Her husband is left with no option but to take the law in his own hands. He holds 30 people hostage in the hospital's waiting room, on the condition that his son is treated.

Things aren't that simple though. There is one heart in the hospital heart bank, with two candidates – Rajput's son, and a politician from the ruling party who has already had three heart attacks. There is pressure on hospital authorities and the police to save the politician. Does Gaurav get a transplant? Or does Rajput die trying to save his son?

It sounds interesting, really. But it fails, thanks to the way it has been executed.

For one, Tathastu is slow. It picks up pace only in the last half hour. Worse, a lengthy diatribe by Dutt kills the climax too. It is an intense drama, but Dutt never looks tense. If his facial expressions are okay, his dialogue delivery suffers. He walks and talks more like a bhai than a helpless father.

As for Amisha, she really should reconsider her career. When the doctor says her son may die any day, she bursts into tears. Interestingly, the minute she did, the audience started to laugh – it was that bad.

Gulshan Grover and Anoop Soni are wasted in their small, insignificant roles as cops. The only saving grace is Jaya Prada, as a doctor. And another good thing – just one song in the entire film. More songs would have simply increased the length of an already dragging production.

All in all, this one's worth a miss.

Rediff review:

Want to see this movie? Check out Rediff Movie Tickets!



What do you think about the story?








Read what others have to say:





Number of User Comments: 4








Sub: Mazzaaaaaaaaaaaaaa nahi aaya

"I'll not suggest anyone to watch this movie"


Posted by pavan nema









Sub: copy of John Q

hindi version of JOhn Q


Posted by PRATAB









Sub: tathastu

I didnt even see the movie i read an extremely short synopsis in the newspaper below its thumbnail in movie listings of PVR and I ...


Posted by Ankit









Sub: please watch this movie

now since patchy N has rated this film bad, I would definitely watch this film and recommend everyone to watch it. this is the kind ...


Posted by riddhima






Disclaimer