Advertisement
May 05, 2006 14:45 IST
Last Updated: May 05, 2006 14:47 IST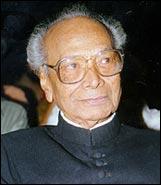 Regarded as one of the greatest music composers of Indian cinema, Naushad's was literally a journey from the footpath to the recording studios.
Born Naushad Ali on Christmas day in 1919, he spent several nights on the footpath after moving to Mumbai in the late 1930s to try his luck as a musician. The composer, who hailed from Lucknow, had cried when his film Baiju Bawra was premiered at Mumbai's Broadway theatre. When the late producer Vijay Bhat asked him why he was crying, Naushad told him he was sleeping on the footpath opposite the theatre when he had dreamt of seeing his music brought to life here. 'It took me 16 long years to cross that footpath,' he had said.
After studying under Ustad Ghurbat Ali, Ustad Yusuf Ali and Ustad Babban Saheb, Naushad repaired harmoniums and composed for amateur theatricals before coming to Mumbai. Since childhood, he was an avid listener of the live orchestras accompanying silent films. Parental pressure to wean him away from music compelled the future maestro to run away to Mumbai in search of his dream.
He assisted Khemchand Prakash, whom he considered his teacher for a few years, and got his first break with Prem Nagar (1940). However, he was first noticed with Sharda (1942), where a 13-year old Suraiya did the playback for heroine Mehtab. Rattan (1944) took Naushad to the top and enabled him to charge Rs 25,000 a film in those days.
Naushad's forte was Hindustani Classical music. His professional training in Hindustani music enabled him to make swift adaptations of ragas into film music. This led to his coming out with major hits including Mughal-e-Azam, Mother India and Baiju Bawra. His other hits included films like Shahjahan, Dard, Dillagi, Dulari, Anokhi Ada, Barsaat and Andaaz. He composed music for 67 films during his career, and completed Pakeezah (1972) after Ghulam [Images] Mohammed's death.
Lata Mangeshkar [Images], India's greatest playback singer -- whom Naushad gave an opportunity to sing in the early days -- once remarked that the music he composed for Baiju Bawra had surprised her. "It was entirely different from what he had done before. Different ragas were used for different situations and the purity of the ragas was maintained to the maximum possible extent," she had said.
Besides Lata, Naushad was also instrumental in introducing Mohammed Rafi to Hindi film music. He also utilised the services of distinguished classical vocalists like Amir Khan and D V Paluskar in Baiju Bawra (1952) and Bade Ghulam Ali Khan in Mughal-e-Azam (1960) to telling effect.
He was awarded the Dadasaheb Phalke Aware in 1981 for lifetime contribution to Indian cinema.
Naushad was the first to combine the flute and clarinet, sitar and mandolin. He was also one of the first to introduce song mixing and separate recording of voice and music in playback singing. It was a reversal of fortunes for the legend with the advent of the 1960s and the decline of Dilip Kumar [Images]. He used to compose music for most of the thespian's films.
The 86-year old's last composition was for the recently-released Taj Mahal [Images] - An Eternal Love Story, directed by Akbar Khan.
ALSO READ
Naushad on Mughal-e-Azam: An epic effort
Naushad: Legends like Talat Mehmood are not born everyday
Naushad spun magic with Mother India
How Naushad immortalised Anmol Ghadi
Naushad sets PM's verse to song