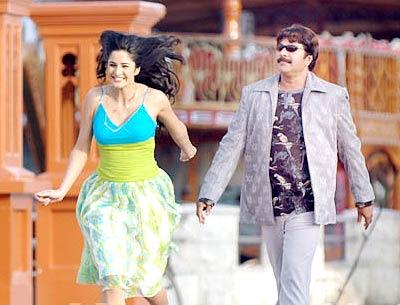 Mammootty, playing an angry, bad-mouthing Inspector Balram in I V Sasi's Aavanazhi in the 80s was such a huge hit that Sasi made another film on the same character -- Inspector Balram.
Even today, though decades have passed, people of Kerala remember Mammootty's Inspector Balram. That could be why Sasi, a super hit filmmaker of yesteryears, has decided to make a third film on the character.
Another memorable character played by Mammootty in that era was that of an underworld don Tharadas, in Athirathram.
So ingenious is I V Sasi that he has decided to make a film with Mammootty enacting both these unforgettable characters -- Inspector Balram and Tharadas -- in a new film. It is possibly the first time a filmmaker has clubbed together two characters from two different films.
Balram vs Tharadas tells the story of a clash between an upright police officer (Yes, Inspector Balram has now become Dy. S.P.) and a criminal with international connections. So, the story of Tharadas, the don, was shot in Dubai, London, etc.
There is no story if the underworld don has no film connection. So, Tharadas is linked with a beautiful actress, and her name is Supriya, played by Katrina Kaif -- her first appearance in a Malayalam film.
The film is said to be one of the costliest made in Malayalam, and is eagerly awaited. After all, it is a double treat for Mammootty fans.