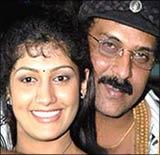 Hatavadi is the story of a man who braves a fatal disease and swallows humiliation on his journey to glory. It re-establishes 'Crazy Star' Ravichandran as an all-rounder.
The film has enough for his fans, but it will also capture the upper middle class family audience. It is for the multiplex audience as well as audiences of single screens who are currently being fed routine melodramas and potboilers.
Hatavadi is different from many of Ravichandran's earlier films, mainly because it has strong emotional content. The music also plays a major role in elevating the quality of the film. However, that said, the story lacks a little credibility because it is placed on the premise that two people who meet on and off cannot identify their voices over a telephone. Also, some of the sequences remind you of Tamil films like Mugavari and Payanangal Mudivadillai.  
| | |
| --- | --- |
| | More on rediff.com! |
| | |
The story of Hatavadi revolves around Balu who comes to Bangalore to make it big in the city as a singer. He has promised his mother in the village that he will be an achiever. In the city, a rich girl called Ashini accidentally telephones him and tells him her sad story. Soon, friendship develops, albeit only over the phone. Ashini, who is in search of happiness, loathes the culture of her parents who respect only money and false prestige. She also accidentally meets Balu in person, but fails to recognise him as her 'phone friend'. Balu plays the role of a friend and lover on the advice of his house owner.

But destiny has something else for him. He is diagnosed with a brain tumour, yet continues his efforts to make a mark as a singer.

Though this is essentially a Ravichandran film, it is to Radhika's credit that she stands up to a superb performance. Her emotions are perfect and she is presented very well on screen. Doddanna makes a good impression in his role of house owner. The comedy sequences featuring Sharan and Lakshman are quite unnecessary, and not very good.

One felt that a positive ending could have been better. But then, Ravichandran is Ravichandran. And he has his own ideas.

Rediff Rating: